At the time of reviewing, the HONOR Watch Magic 2 wasn't officially available in the country yet – the review unit that we got was from China and we'll be reviewing it based on its Chinese specs, which isn't all that different bar NFC payment being in the Chinese version.
In a time where fitness trackers and smartwatches are a plenty, it takes a lot to stand out from the crowd. One of these watches is of course the Huawei Watch GT 2, which the HONOR heavily resembles. Right off the bat, the HONOR Watch Magic 2 feels like a clone of its cousin, and it probably is. But you know what, at RM699, the HONOR is RM200 cheaper than its Huawei cousin – so bear that in mind throughout the review.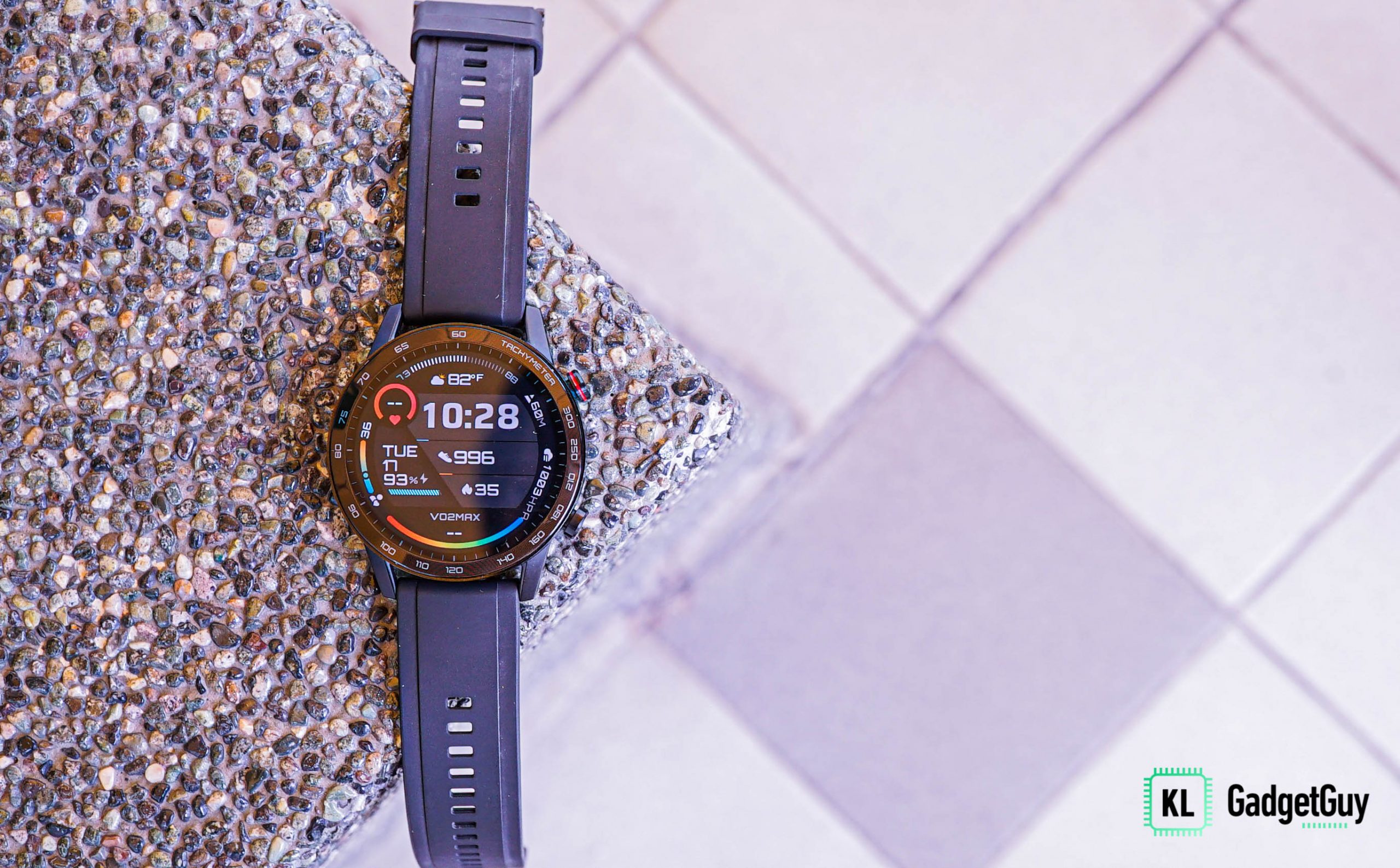 But once I started using the device, it started to grow on me a bit – in terms of aesthetics, it looks really good with its mix of rugged and clean. The variant that I have is the 46mm version and it has a 1.39-inch AMOLED display. HONOR gets this area right – the display is great to look at and colours pop quite nicely. Plus, it gets sufficiently bright so outdoor viewing is no problem at all.  
Like the original Magic Watch, there are two dial buttons at the side of the watch – the top one gets you to the list tracking modes including heart rate, workout, stress and even your call log. The bottom button can be mapped to any feature you want – mine's programmed to tell me how many hours I've slept the night before.  
Running the show is Huawei's LiteOS, and as its name suggests, you're not getting a lot by way of features, at least on your watch. What I've found lacking, is that you can't swipe through notifications to read them. After opening a message on WhatsApp, swiping up or right only takes you back to the list of notifications you have – you'll have to tap on one of them again to read it.  
This could be a slight annoyance if you're on the move or are working out; with that said, no reason why this can't be fixed over an OTA update.  
The watch is also packed with a mic and speaker meaning you get to take calls directly on your smartwatch. Caking calls via the watch is also easy – just add a list of contacts to your Huawei Health app, and it'll appear on your watch. From there, you can use it to make calls too. Plus, the call audio is impressive too.
Another small gripe I have is that you can't rearrange the order of the modes – there's also no way to add and remove modes for quick access. One swipe left brings you to the heart rate tracking, one more lets you track your stress levels.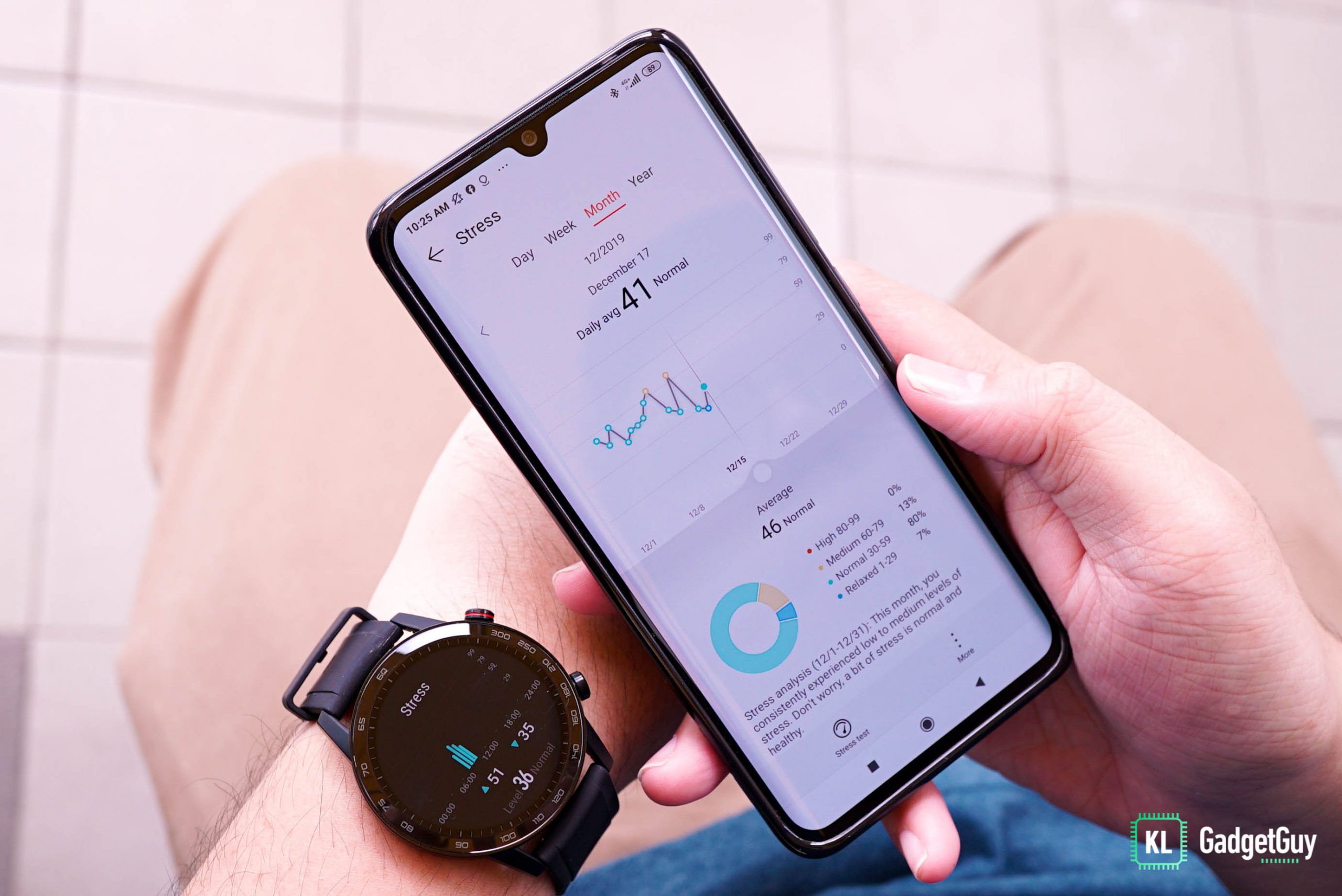 Speaking of stress levels, you can check that too alongside your heart rate – it's measured in a 1-99 range and it's measured consistently a detailed chart is presented on your watch. On the Huawei Health app. It cites the methodology as basing tests on heart rate fluctuation data and stress models – a bit vague if you ask me, but it's supposed to be a simple reference anyways. 
There is 24/7 heart rate tracking on the device and readings are presented in a graph along with the BPM trends shown right on your watch. It's a simple tool if anything and readings can be erratic – either that or I have some serious issues with my heart, like very serious issues. 
Our review unit also supports NFC payments via Ali Pay, but the global version (which we're getting) probably won't support NFC payment.  
Under the hood, the watch is equipped with a Kirin A1 chipset alongside built-in speakers for notification tones and trainer audio. In terms of user experience, the watch feels sluggish when swiping across its many modes – but it's never felt like a burden. Workout modes boot up spritely too.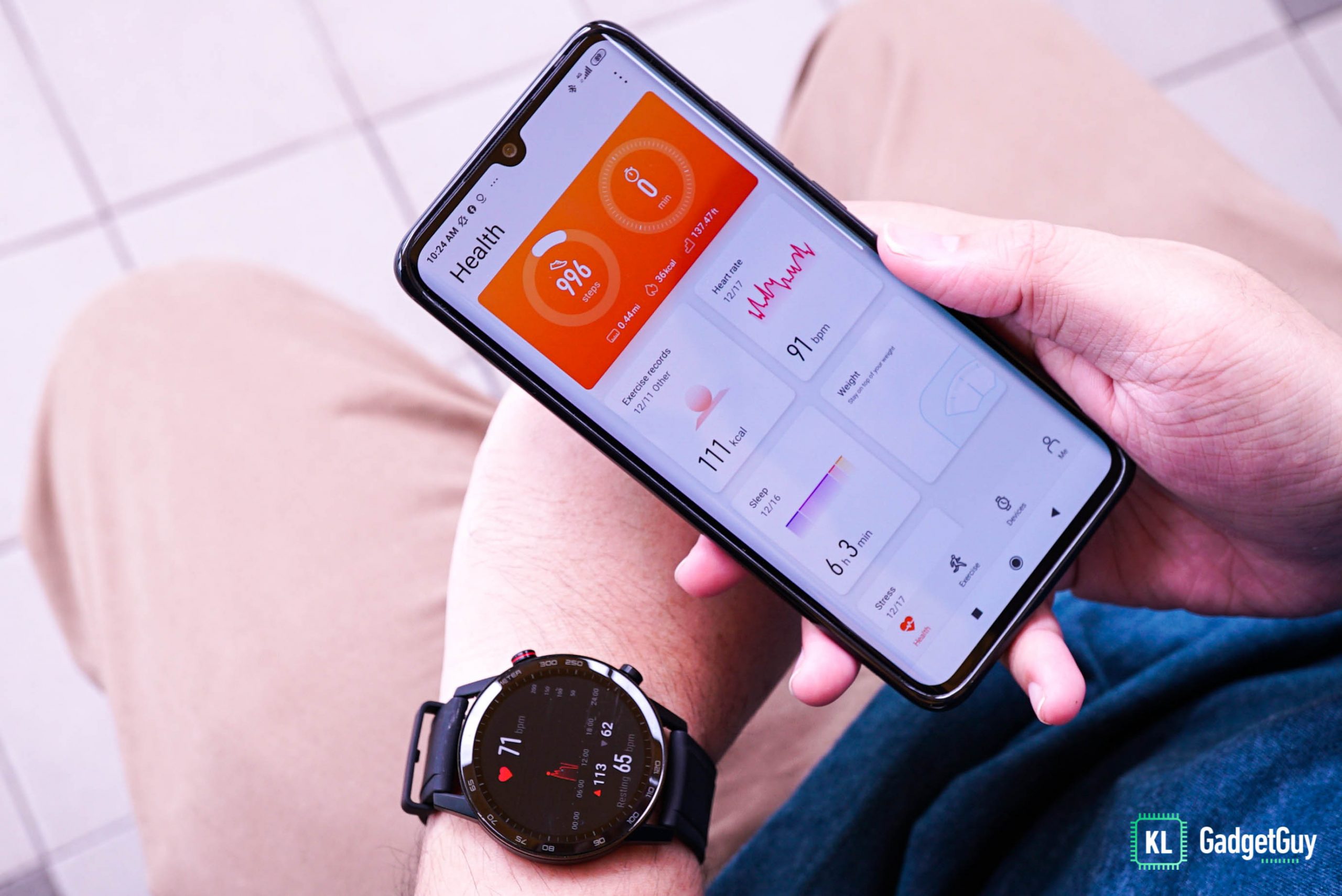 This is where the watch excels – workout tracking. There are plenty of modes of to choose from – you've got the traditional suite of personal trainers like indoor running, swimming and more. Accessing these features is as simple as pressing the top dial button and you'll have the full list ready to go.  
The watch will also let out an audible and very loud  "start workout" notification when you hit the start button, but that can only be muted after that – meaning my first workout with the watch got me red-faced as the notification drew the attention of the entire gym – why do you do this to me HONOR?  
When working out, the watch uses the heart rate tracker to tell you when you're at your optimal 'fat-burning zone' and will tell you when you're not up to pace and in the warm-up zone.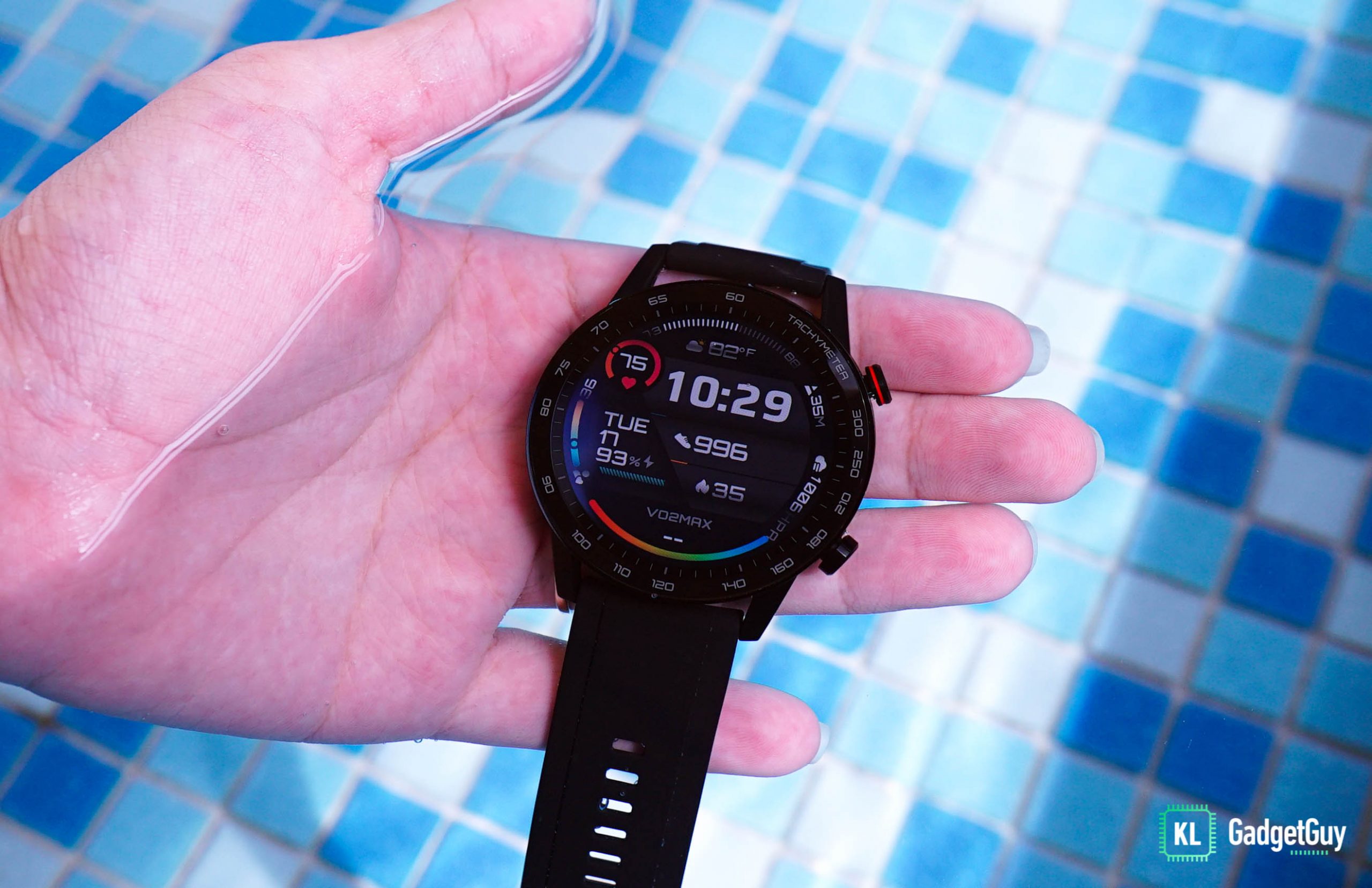 After completing your workout, you can revisit your session on your watch; but for a more complete set of data, you'll have to revert back to the Huawei Health app. And that brings us to the next issue for the watch – its over-reliance on the app prevents it from being the holistic analytics tool many enthusiasts need – which should be HONOR's core target audience for the watch. 
If you like to get soaked, then rest easy that the watch is water-resistant up to 50m – our review unit has been drenched in a lake as well as in mud, and it's come out absolutely fine. While riding on an ATV, I've bumped the watch a few times too and while my arms were scratched up, the watch remained unscathed – impressive. 
After a long day of almost killing myself in the wilderness, I head home for a much-needed slumber – with Huawei's TruSleep 2.0 tech, the watch monitors your sleep patterns and tells you hoow many hours you've slept, and even keeps a record of it. The sleep timings are accurate too. 
In terms of battery life, HONOR claims that you can go up to 14 days with sleep motinor, heart rate tracking and notifications activated, which I've found to be true.  
Verdict

 
The HONOR Watch Magic 2 is a smartwatch that functions more like a fitness tracker – hence my chosen title. With its heavy reliance on its companion app, it makes you feel like you're wearing the cheaper HONOR Band 5, which is a full-blown fitness tracker.  
But hey, it's no Apple Watch or Samsung Galaxy Watch, and it certainly isn't priced like either products too. So one can forgive the Magic Watch 2 for its sluggish performance and wonky software. But credit where credit is due, for what you're paying for, you're still getting a very reliable and sturdy fitness and health tracker that looks awesome, has impressive battery life and can take a beating. 
Currently in Malaysia, only the 46mm variant is available and you'll only be able to get the Charcoal Black colour. Visit HONOR's website here to purchase the Magic Watch 2.
The Good
Sturdy build and pleasing design
Long battery life
Waterproof
Loud speakers
Ample monitoring features
Wide list of personal trainer modes
The Not So Good
Sluggish performance
LiteOS is too light
Lackluster notification reading