I'm a fan of lightweight laptops that pack the necessary goodies that get the job done, quickly; because that's pretty much a writer's dream. And as a writer myself, I'm glad to be lucky enough to try out Lenovo's ThinkPad X1 Carbon. 
I am, of course, referring to the 7th generation edition of the ultrabook – I know, I know, it's been out since September and I'm effectively two months behind, but better late than never right? 
I remember fondly of the first time I unsheathed this beauty from its card box encasement and I Immediately thought to myself how light the X1 Carbon is – and the reason for that is in its name. The chassis of this 14-inch device is reinforced with carbon fiber and that supposedly makes it lightweight and durable. I'm not going to test out the latter claim, but I can safely say that this laptop is very light – more specifically, it weighs about 1.3 kgs with the charging brick. 
The aesthetics of the laptop is very much your classic ThinkPad look bar the carbon-fiber weave cover top that has a matte finish – despite how it looks, it's smooth as a baby's behind. You'll find the same soft matte plastic on the palm rests inside, except without the mesh design – and as most finishes this, they tend to be skin oil magnets. You'll need a frequent wipe down if the smudges bother you.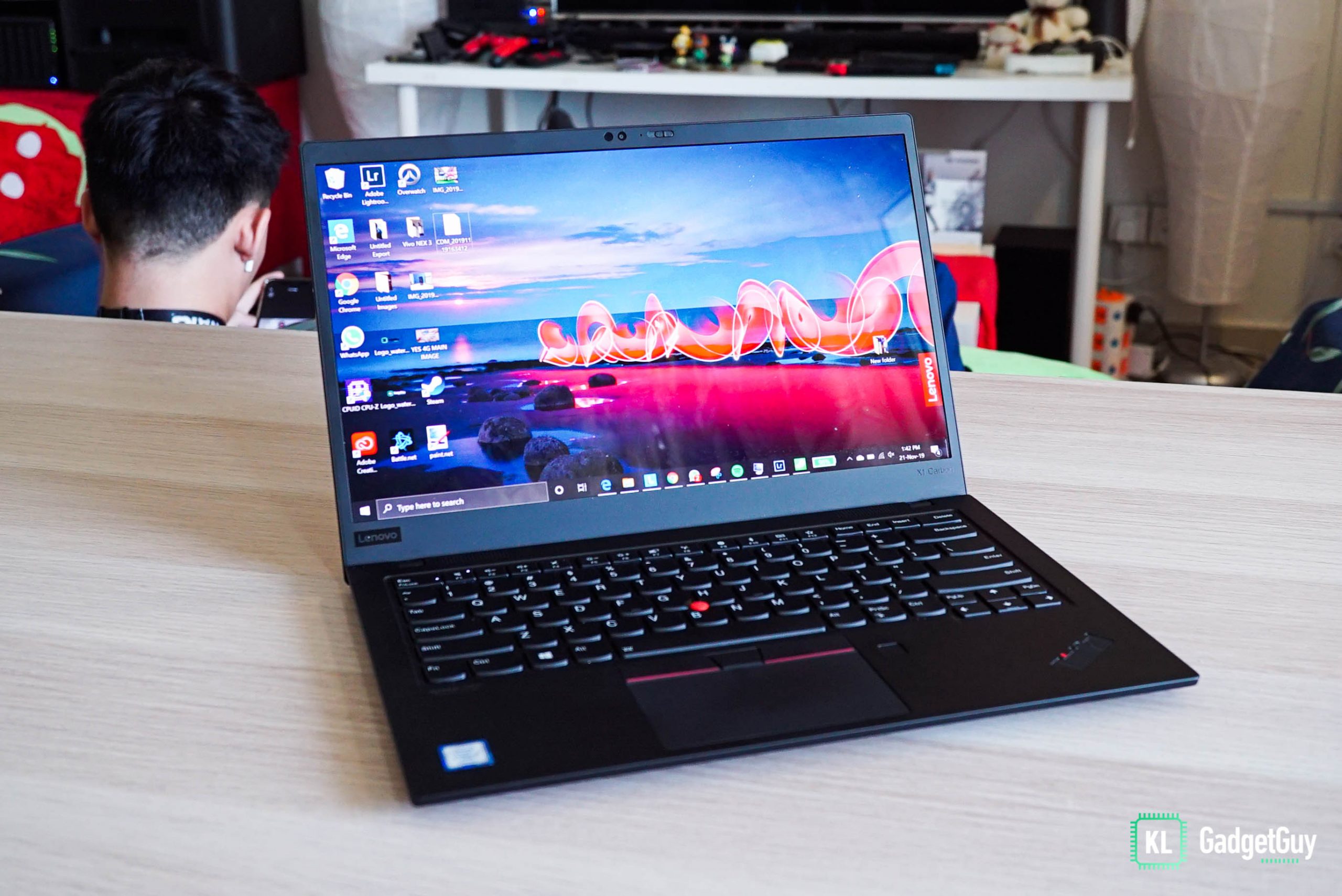 Moving on to the display, the unit that we got came with a 4K panel with 10bit HDR support; this does two things: sharp images and vibrant colours. There's also a setting that lets you change the display's colour temperature depending on what you're working on – set it to Photo Pro if you're editing images, Movie Pro for films, or Native to revert back to factory-set temps. 
If a 4K display is overkill for you, there are other models offering lower resolution 1440p and 1080p monitors too. It needs to be mentioned here that our unit has been customized with all the bells and whistle, which includes the display panel, processor, SSD and more. 
Lenovo laptops generally have great keyboards – and this one inherits the good ThinkPad- keyboard genes. Its layout and looks remain the same, so ThinkPad users will feel right at home. If you're not however, the placement of the left CTRL key can throw you off – it's placed between the Fn and Windows keys, meaning it's not at the very edge like on most keyboard layouts; this means you'll have to learn to readjust your pinky when you go for the CTRL key.   
As usual, typing on this keyboard feels fantastic – it feels robust. Each keypress has some travel that produces a quite satisfying thud at the end; this produces one of the quietest keyboards I've used on a laptop.  
While we're in and around the keyboard space let's address the two upward-firing speakers on the laptop. They're Dolby Atmos-engineered speakers, but audio quality isn't the greatest – it's loud but it lacks any depth. This is probably this is a premium laptop after all, and I had hoped that Lenovo would've packed some better audio hardware into this. 
Moving on, here's where the laptop disappoints – the I/O ports are not a plenty with only two USB 3.1 ports, two USB C Thunderbolt 3 ports (which you'll use to charge your laptop with), one HDMI 1.4 port, a headphone jack, and a ethernet extension connector which you can connect to with an ethernet adapter that comes in the box. Looking around, Lenovo could have potentially added one more USB A port which would've helped a great deal. 
Next let's dive into internals and performance, our unit comes with an Intel Core i7-8665U (1.90Mhz base frequency), but you can get it with a Core i5-8265U, Core i5-10210U, or Core i7-10510U as well. You can get up to 16GB RAM and that's why my system has. 
We're going to keep it simple here with as few numbers as we can – the first test we ran was with Geekbench – single-core scored at 1081, while multi-core scored at 2751. Respectable scores here and it translates into decent performance too.  
The laptop comes with either 8GB or 16GB RAM which isn't upgradable, so make sure you get sufficient memory. The issue here is the 2,133Mhz frequency that the cards run at doesn't feel as snappy as our Dell Inspirion 13 7380, which has 16GB 2,400Mhz RAM but a weaker Core i7 8565U (1.80Mhz base frequency) CPU.   
Comparing with the two, the Lenovo doesn't do light photo editing, typing and web browsing on Chrome as effortlessly as the Dell – the difference is there, but negligible. Take the latter out of the question, the ThinkPad X1 actually performs fine.  
For storage, my unit came with a 1TB M.2 SSD, with another M.2 expansion slot available. The numbers obtained from the CrystalDisk mark benchmark gives it a 3,021MB/s on sequential reads, with 1,554MB/s on sequential writes. Standard M.2 speeds here and I'm glad to report that programs and apps load up fast too. 
In terms of thermals, the laptop does get warm towards the right side – there, you'll find the device's single cooling vent. Using this on your laptop can get uncomfortable after an hour because of the heat. On heavy loads, fan noise is noticeable but it it's bearable. When you're unplugged and on quiet mode, the laptop is impressively silent.  
Speaking of being unplugged, battery life on the machine is good, but not quite the 18.3 hours Lenovo claims on their website. In real-world situations – with multiple Chrome tabs open, a Word document, with brightness somewhere around the middle, occasionally with Spotify running, and with Quiet Mode on – the laptop achieves 6 to 7 hours of battery life before needing to be plugged in.   
Lastly, we move on to features – and one of the key selling points of the X1 Carbon is its safety offerings. It's got a responsive fingerprint reader and a snappy IR camera for facial detection. If you're the sort to worry about your web cam getting hacked, then Lenovo's solution is a simple – a physical cover that you can slide over to restrict vision. To disable your mic, the easiest way is to boot up Lenovo Vantage and disable it from there.    
Verdict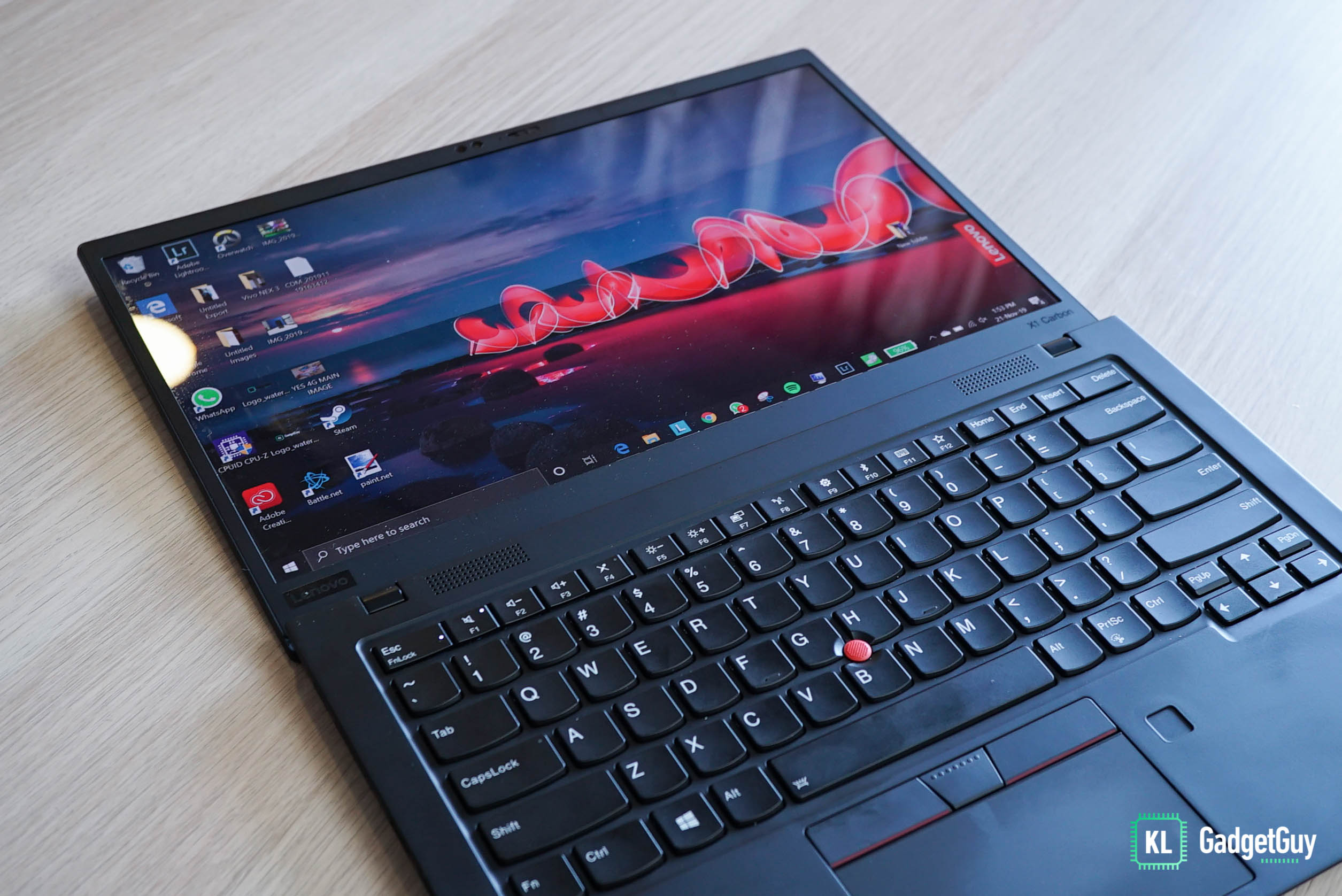 The 7th generation Lenovo ThinkPad X1 Carbon is a fantastic device, as it should be. As part of the long lineage of reliable ThinkPad laptops, this one is as well-thought out as its counterparts – its build (especially its keyboard) as well as its components get the job done, and done well.  
But for RM6,255, we reckon you get a better deal elsewhere. Arguably the only issue I had with the laptop was with the lack of I/O ports such as a microSD card slot and at least one more USB A port. Plus, the aforementioned Dell Inspirion 13 7380 remedies this while offering slightly better performance, and for nearly half the price of the Lenovo.  
But hey, with the Lenovo, you're getting arguably the lightest laptops around which contributes to its great portability. If you can fork out an extra RM841 for the 4K display panel, we say go for it – I definitely enjoyed my time with it. 
So if portability, a fantastic keyboard, great battery life and nifty security features are what you're gunning for, the Lenovo ThinkPad X1 Carbon is the way to go. Visit their website here to make your purchase.
The Good
Lightweight
Great battery life
Highly customizable from the web-store
Ergonomic keyboard
Silent under heavy load
Decent audio quality
The Not so Good
Slightly sluggish performance
Skin oil magnet
No additional RAM slot
No SD card reader