We have reviewed a couple of Seagate SSD products and they have so far delivered exceptional performance for its value.
This time, Seagate sent over the BarraCuda 510 NVMe SSD for our evaluation, it is aimed at the mainstream users who wants to have faster storage on their PC and laptops, what's impressive is that the 512GB storage model we received promises an impressive 3400MB/s read and 2100MB/s write speeds on a PCIe Gen 3×4 interface, while opting for the 1TB model will get you up to 3000MB/s of write speeds.
Seagate's SSD packaging is probably one of the most attractive ones out there, the box features the familiar Barracuda fish and a picture of the drive, it also tells you the storage capacity on the top right along with its maximum read speeds.
Compared to other NVMe SSD of the same class, the BarraCuda 510 doesn't come with any extra accessories such as a heat sink or screw, which can be a little disappointing but isn't a deal breaker. Some reviews out there have also complained about the aesthetic as Seagate has pasted the product label over the memory chips rather at the back, I find that extremely minor as you probably won't look at it unless it comes with RGB lighting that you want to show off.
Now, let's take a look at the drive's performance.
Test Bench Specifications
CPU: Intel Core i3-8100
Cooler: CoolerMaster Nepton 240M
Motherboard: SuperO C7Z370-CG-IW
RAM: Patriot Viper RGB Gaming 8GBx2 3200MHz
SSD: Apacer AS340 240GB (Operating System)/Seagate BarraCuda 510 512GB NVMe SSD
HDD: Seagate Firecuda 2TB
GPU: AMD Radeon RX Vega64 8GB HBM2
Chassis: Cooler Master Test Bench V1
Power Supply: AeroCool KCAS 800W
CrystalDIskMark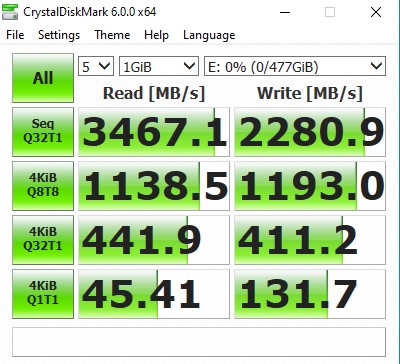 A famous tool used for benchmarking hard drives and storage, CrystalDiskMark measures the data transfer speeds of a drive by having single and multithreaded sequential and 4K transfer tests.
ATTO Disk Benchmark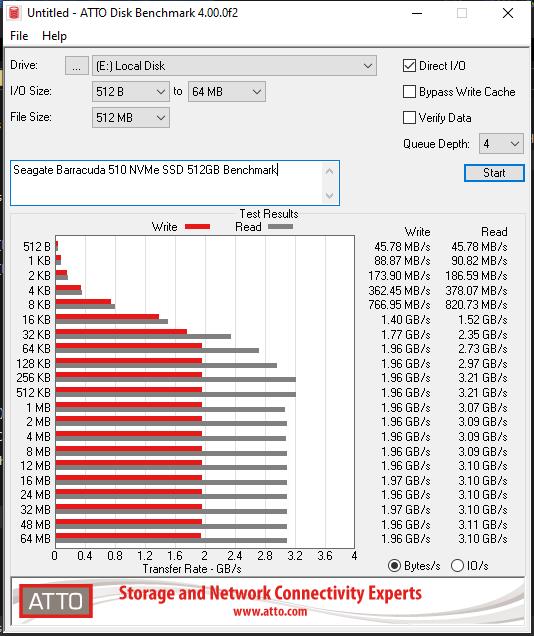 ATTO has been used to benchmark disk speeds with different block and file transfer sizes to determine the drive's best performance.
AS SSD
A benchmark that tests the SSD's true performance without using the cache, this benchmark perform transfers using a 1GB file with randomly chosen 4K blocks, hence this will show slightly lower speeds than other benchmarks.
Verdict
While one of the things that you make need to take note is the lower 320 TBW endurance rating it has, you can't go wrong with the Seagate BarraCuda 510 NVMe SSD if you are looking for a speedy drive for your computer without breaking the bank.
While there isn't an official price for the Malaysian market yet, you can find the 512GB model we reviewed going on sale for as low as $85 (RM354) over at Amazon, however should you want to go for the 1TB model that offers superior write speeds and better endurance, you are going to need to shell out an extra $100 for it, which could be a hard recommendation as there are much better NVMe drives in that price range.
The Good
Great performance to price ratio
5-years warranty
User-friendly SeaTools SSD software for checking disk health and perform maintenance
The Not so Good
No heatsink and screw included
Lower endurance compared to competing drives
1TB model price at a disadvantage