Everyone's trying to get into the foldable smartphone game – the latest purported to join the bandwagon is Xiaomi. After the launch of the Motorola RAZR 2019 phone, it looks like Xiaomi will be taking a page (maybe more) out of Moto's playbook. 
Patents of Xiaomi's rendition have surface and it looks like their design folds vertically, just like the RAZR 2019. This means that it's all screen on the inside – but what's different is that Xiaomi's version lacks the massive chin found on the RAZR.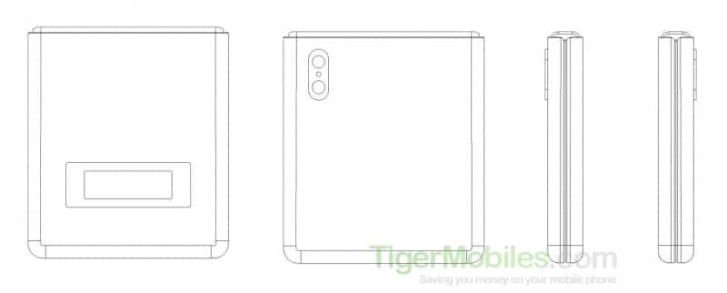 When folded, it takes on the shape of a square. Also like the RAZR, there isn't any visible gaps when the two halves of the phone close on each other.  
But what's interesting is that the phone's dual camera system is housed on the bottom portion of the phone's back panel as opposed to the more conventional top panel placement. What's also different is the Xiaomi's secondary display, which looks to be a small non-touch screen display that only shows a limited amount of content. 
The patent was found on the China National Intellectual Property Administration website, so one can assume this to come into existence soon – perhaps sometime 2020.