Apple has just introduced it's the new 16-inch MacBook Pro – the largest MBP ever – replacing the current 15-inch model. It obviously sports a 16-inch Retina display that pushes 3072 x 1920 resolution with a pixel density of 226ppi.  
Also new is the Magic Keyboard that uses scissor switches instead of the older butterfly switches which were problematic. On the new keyboard is also a physical Escape key as well as "interted T" directional keys. Being a MacBook Pro, the signature Touch Bar remains along with Touch ID and Force Touch track pad. 
Under the hood is your choice of a six-core Intel Core i7 CPU or an eight-core Intel Core i9 processor. The Core i7 variant will sport an AMD Radeon Pro 5300M GPU while the Core i9 variant comes with an AMD Radeon Pro 5500M.  
In terms of memory, both models support up to 16GB DDR4 RAM (upgradeable to 64GB), while the smaller model gets 512GB storage and the bigger model gets 1TB storage – both variants upgradeable to 8TB storage. According to Apple, the new MacBook Pro is 2.1 times faster than its 15-inch predecessor when on MATLAB, can complete a code on Xcode at 1.8 times faster, and can edit images on Photoshop 1.7 times quicker too. 
For audio, the new MBP also comes with six speakers along with an upgraded mic. The laptop will ship with macOS Catalina and will offer features like Dark Mode, Sidecar, and more.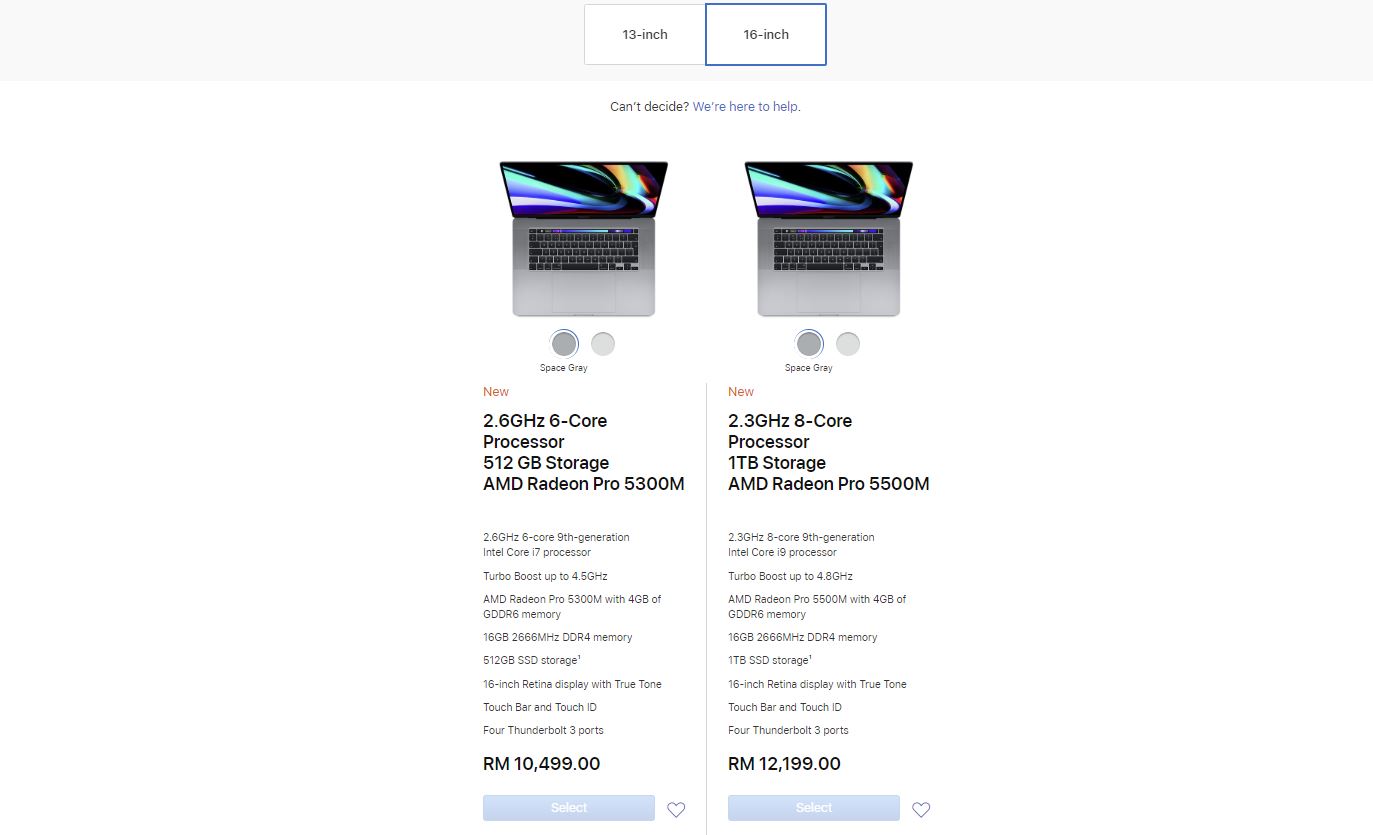 The new 16-inch MacBook Pro is available in Space Gray and Silver and will be priced at RM10,499 for the Core i7 variant, and RM12,199 for the Core i9 variant. Visit Apple's website here to make your purchase.