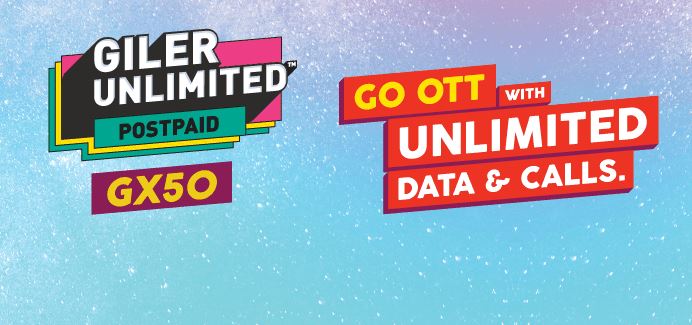 UPDATE: U Mobile has issued an official statement regarding the matter: U Mobile always aims to provide the best experience to all our valued customers. With regards to U Mobile's GX50 and GX30 plans the offering of unlimited data for all apps still applies. However, with network being a shared resource, we have in place a Fair Usage Policy to ensure our services  maintain quality and performance levels. The Policy tackles disruption caused by usage patterns of a small number of customers which may affect the overall experience and usage of other customers. Hence, the purpose of this policy is to ensure all our customers have good network experience. 
Halloween has just passed, but it looks like U Mobile is still trying to give its users a fright – specifically those subscribed to their GX50 and GX30 Giler Unlimited plans.
A photo has been circulating online detailing the updated Fair Use Policy for both products – both have the monthly threshold set at 50GB per month – and here's a doozy, once the threshold has been reached, your network speed will be throttled to a measly 0.5Mbps from 8pm until 1am. 50GB per month is still ample for the regular user, but it's the fact that these supposedly unlimited data plans aren't actually unlimited.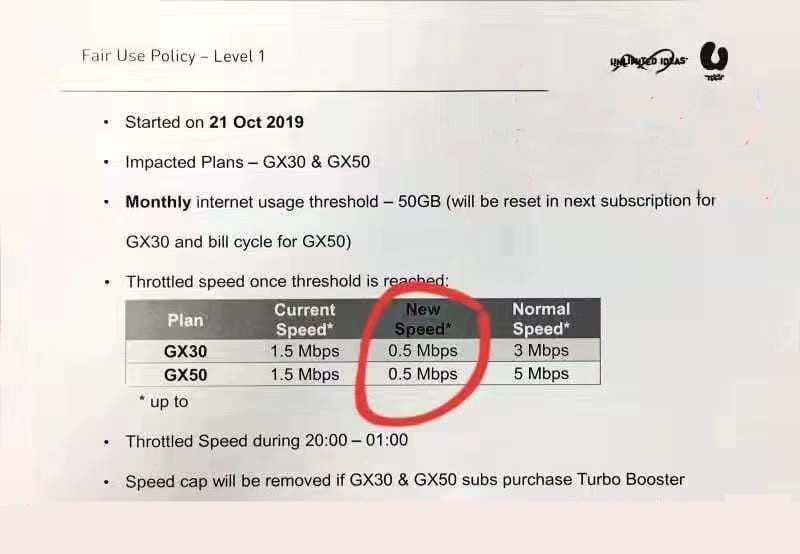 This will hurt even more when you realize this is a further drop from the initial 1.5Mbps throttle that already exists. Sure, prior to reaching the threshold you'll still get 5Mbps with the GX50 and 3Mbps with the GX30 – what wasn't really made clear however is the 50GB threshold. Reach it and your network speeds slows down to a crawl. It's still technically unlimited data, but you're really not going to get anything done with 0.5Mbps.
The new implementations have been in effect since 21 October – so if you've been experiencing some slow down during the cut-off time, now you know what's up. To add fuel to fire, the policy boldly notes that you can remove the speed cap if you purchase Turbo Booster for RM5 – the nerve on them. So it's up to you really – the GX50 and GX30 plans are still two of the most affordable plans around, but will you be able to live with knowing you're not really getting unlimited data?