It's interesting times for Xiaomi – they've recently launched the Xiaomi Mi Mix Alpha recently with its all display feature. Prior to that, we also saw the launch of the Mi 9 Pro with its Snapdragon 855+ chipset.
As we head towards the end of the year, it looks like Xiaomi is ready to close up shop in terms of phone releases – meaning the much-anticipated Xiaomi Mi Mix 4 will not see the light of day, at least within this year.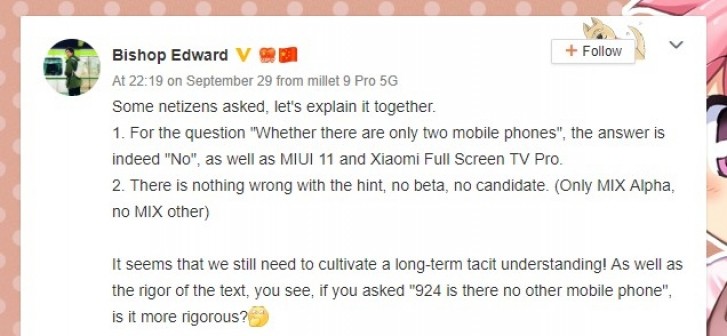 Xiaomi China's product promotion manager Bishop Edward took to Weibo to dispel rumours of "another Mi Mix device" other than the Mi Mix Alpha. He puts it quite bluntly in his post that there will be "only MIX Alpha, no MIX other" – so it's safe to say the company is bypassing the Mix 4 indefinitely.
This makes sense in a way since the Mi Mix series have always been Xiaomi's avenue for trying new things – the Mi Mix 3 sported the sliding back panel module, the Mi Mix 2 and 1 with the bottom selfie camera placement as well as thin bezel displays.
So this year, Xiaomi introduces the Mix Alpha with a quite revolutionary surround display. The other non-Mix phones have already been launched – the Mi 9 Pro comes with the best chipset around, and has a 5G variant, meaning Xiaomi has that premium flagship market covered. So there really isn't any reason left to push the Mi Mix 4 out this year.
It needs to be mentioned that the Mix Alpha is a concept device – its RM11,764 price tag makes it so that only those who really want it can get it. For now, let's forget about the Mix 4 for now and close out the year with the amazing devices we already have.