Finally, Google is offering fingerprint verification for its services so that Android users will no longer need to rely on passwords.
According to Google, Android users will finally be able to use their fingerprint or screen lock to access to several Google services — this includes logging in to their Google Accounts. However, this security feature will first be available to Pixel devices and will only come to Android 7+ devices later on.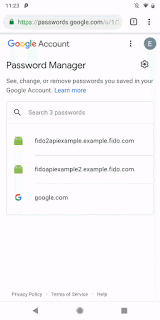 Google also pointed out that the security enhancements use FIDO2 standards, W3C WebAuthn and FIDO CTAP but users' fingerprint data will never be stored on Google's servers. Simply put, you won't have to worry that someone else has access to your fingerprint data since only your device has the data.
In addition, Google also mentioned that it has automated defences for excessive sign-in attempts and advises its users to enable two-step verification for higher security. Users who are interested to test out the new security feature need to ensure that their Google Account is already added to their Android device and that their device is running Android 7.0 and above. Needless to say, they should also have a valid screen lock. For the full instructions on how to try out the new feature, click here.