With the inevitable progression to 5G connectivity in telecommunications and broadband worldwide, chip makers like Qualcomm and Samsung had flexed their muscles with their own versions of a 5G-ready chipset. Joining the race now, is none other than MediaTek — best known for making power-efficient chipsets like the Helo P series.
MediaTek makes their debut in the 5G market with an unnamed 7nm SoC chipset with integrated Helio M70 5G modem — which is a contrast from Qualcomm and Samsug's offerings which have the modems placed externally, pulling out more power.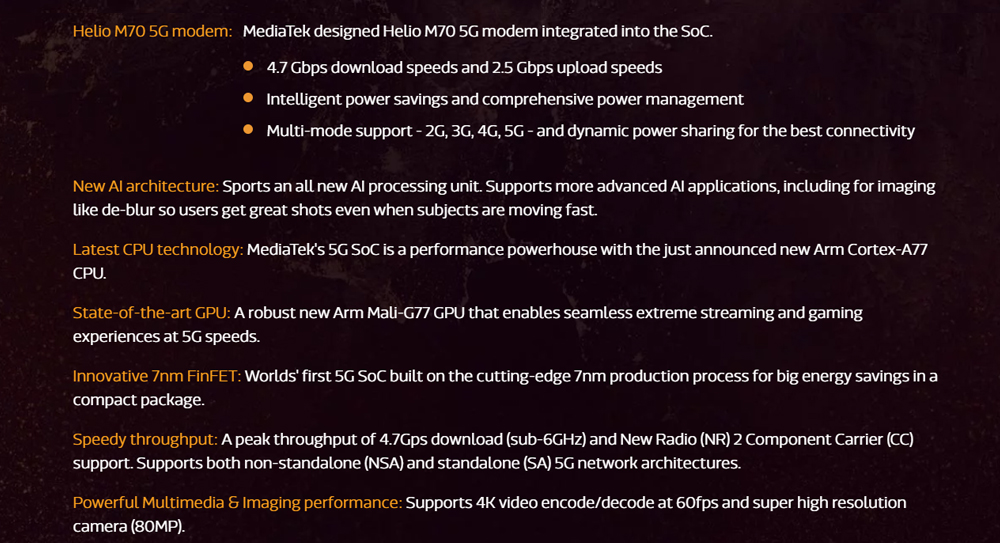 MediaTek claims that the chipset supports up to 4.7Gbps download and 2.5Gbps upload speeds, while maintaining efficient power usage. The chipset also packs the latest Arm Cortex-A77 CPU as well as the Arm Mali-G77 GPU.
MediaTek also claims that it supports up to 80MP cameras as well as 4K video encoding/decode at 60fps. The chipset will be given toe manufacturers sometime around Q3 this year so we don't know what devices will be sporting it yet, but the future looks bright with a new addition to the 5G market.