The OPPO Reno series has already launched both its models in Malaysia and both phones – the OPPO Reno and the OPPO Reno 10x Zoom – has been integrated with a very unique pivot rising structure. However, there are also several differences between both devices which is why there is a price difference between them.
Firstly, the Reno and the Reno 10x Zoom differ in size. The standard model comes with a 6.4-inch OLED screen while the Reno 10x Zoom has a 6.6-inch OLED display but both are integrated with Gorilla Glass 6. In addition, the Reno series has hidden fingerprint unlock. They are also spotted in two colours – Ocean Green and Jet Black, where the former comes with a matte texture while the latter has a shiny finish.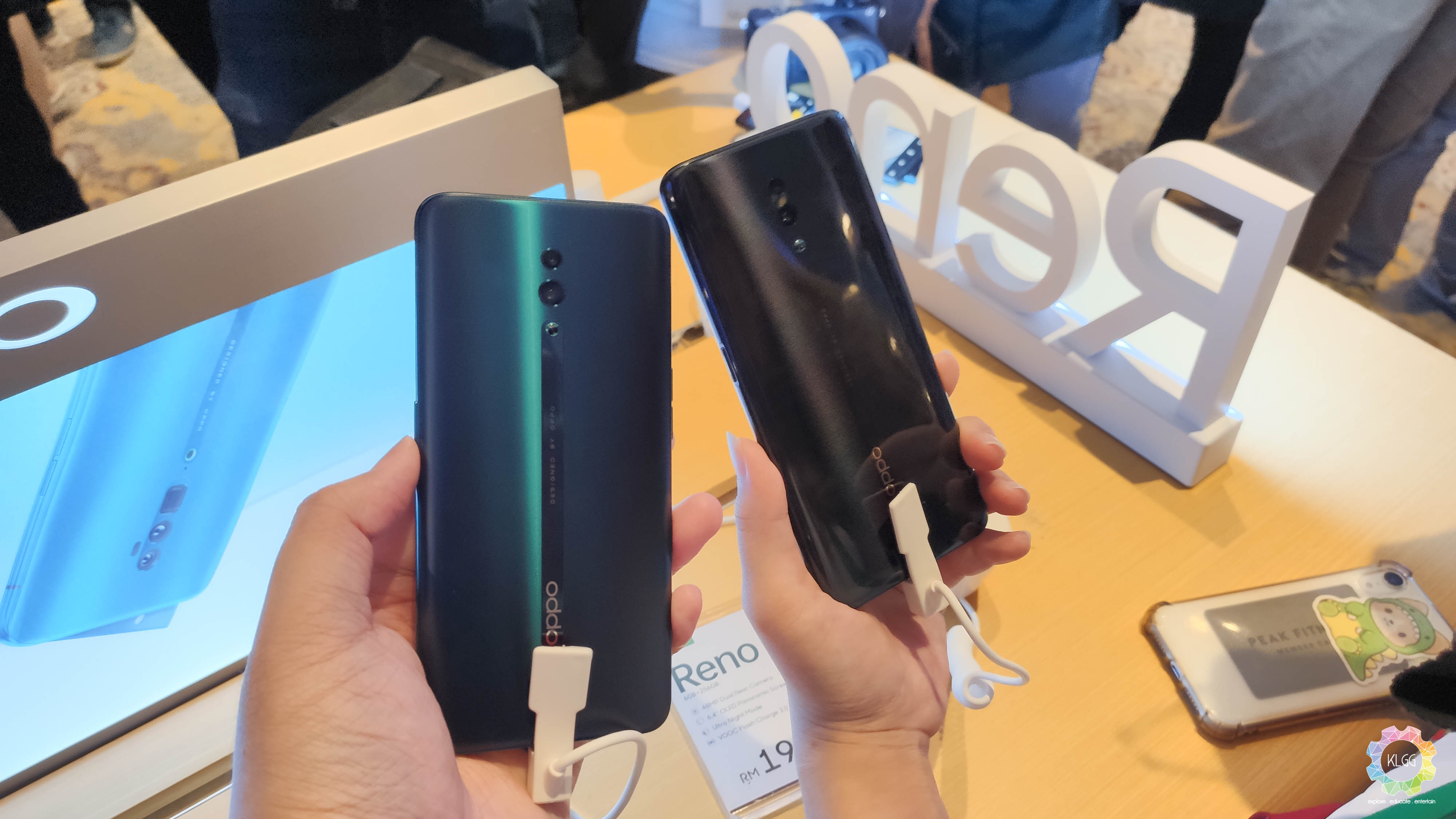 The Reno 10x Zoom is also ahead of the Reno in terms of performance as it is powered by the latest Snapdragon 855 chipset compared to the Snapdragon 710 chipset found in the Reno. The Reno has 6GB RAM and 256GB storage, and the Reno 10x Zoom has 8GB RAM and expandable 256GB storage. Both phones ship with ColorOS 6 based on Android Pie.
There are also a major difference when it comes to the camera specs. While the OPPO Reno has a 48MP main camera paired with a 5MP secondary camera, the Reno 10x Zoom replaces the secondary camera lens with a 8MP wide angle lens and adds on an extra 13MP telephoto lens. The Reno 10x Zoom not only supports 10x Hybrid Zoom, but also feature digital zoom up to 60x. Meanwhile, the pivot rising structure houses the 16MP selfie camera along with receivers and sensors.
The Reno series supports charging via USB-C and while the OPPO Reno has a 3,765mAh battery, the OPPO Reno 10x Zoom takes it up a notch by getting a 4,065mAh battery. Both devices supports VOOC 3.0, so you won't have to worry about extensive charging time.
The OPPO Reno costs RM1,999 wheras the OPPO Reno 10x Zoom costs RM3,399. However, you can now get the OPPO Reno for free if you subscribe to Celcom Mobile Platinum Plus postpaid plan for RM188/month. Not only will you get 100GB monthly Internet, you'll also be getting unlimited calls to all networks and also unlimited usage of WhatsApp and WeChat.
In addition, there's a 24-month instalment plan from Celcom known as EasyPhone Own, where customers can get the new OPPO Reno by just paying RM91/month. The OPPO Reno can already get the OPPO Reno via the Celcom Online Store, OPPO's official stores and also Celcom Blue Cube retail outlets in Malaysia. To further express appreciation towards purchasers, those who buy the OPPO Reno will also get a free battery casing worth RM199 while stock last.