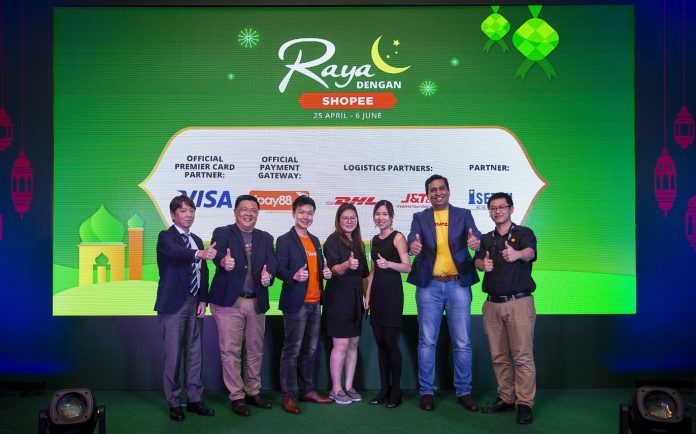 Raya is less than two months away, and Shopee is ensuring that their users are well prepared before the festive season begins with their campaign "Raya Dengan Shopee".
This campaign starts today, April 25 and will end on June 6, giving Shopee users more than enough time to start shopping for Raya. A few famous deals are coming back such as daily cashback, the Shocking Sale with deals as low as RM1, the Goyang Shopee that lets users get Shopee Coins, vouchers and gifts, and also the newer Shopee Quiz that only started this year. As usual, the Shopee Quiz will be on weekdays at 12pm, where users can win up to two million Shopee coins each session.
Shopee also ensures that its users can literally purchase everything they need on the app itself. Whether it's makeup, clothing, cookware or even tech gadgets, Shopee has it all on its app. What's more, Shopee also let users purchase property and vehicles via its app. In collaboration with the property developer S P Setia, customers only need to pay RM688 — a booking fee — to secure the units before visiting the sales gallery to complete the remainder of the payment.
As for vehicles, Shopee AutoMall — launched today — offers various kinds of vehicles from SUVs to motorbikes to hybrids, and Shopee will also offer booking fee from as low as RM1, in addition to lower interest rates, rebates, freebies and discounts.
There are also a few deals for the fasting month, in which there will be discounts up to 47% on The Coffee Bean & Tea Leaf beverages during weekday Shocking Sale — valid from May 16, up to 40% discount for Kenny Rogers Roasters from May 6, and also buffet deals at Hotel Maya Kuala Lumpur, The Boulevard Kuala Lumpur and Royale Chulan Seremban.
But wait, that's not all that Shopee is offering. There will also be partnerships' benefits because Shopee is partnering with Maybank, Visa, Muslim Pro, MaxMoney, DHL and also J&T Express Malaysia. Rest assured that there will be free shipping, cashback, and many more.
For more information, download the Shopee app or visit Shopee's website.