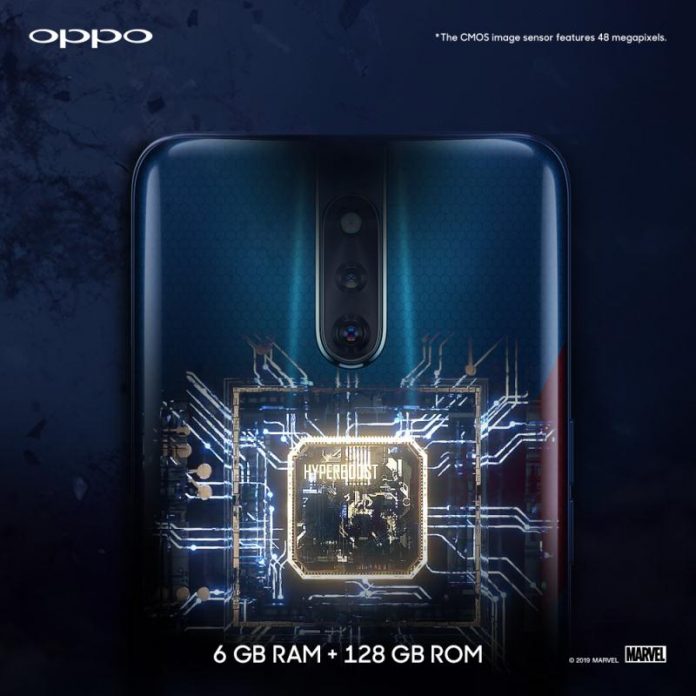 So, everyone's jumping on the Avengers bandwagon, and why wouldn't they? Profiting off the hype seem to be order of the day for OPPO as they've recently announced a Marvel Avengers Limited Edition version of the F11 Pro. Now, the phone's specs have been revealed by the Chinese company too.
We already know what the phone is about but here's a recap. What's special about the phone is its re-worked aesthetics that scream "Captain America!" – the phone is predominantly navy blue while half of the Avengers logo is plastered on the back panel in red. Just above the back lenses is another Avengers logo, because it wouldn't be an Avengers phone without more logos, wouldn't it.
Under the hood, the phone is basically the decked-out variant of the F11 Pro with 128GB internal storage and 6GB RAM. It sports the MediaTek Helio P70 chipset too. The dual lens setup features a 48MP lens and a 5MP depth sensor. At the front is a pop-up 16MP selfie camera.
The phone comes with an in-screen fingerprint sensor for the Iron Man vibes, and a 4,000mAh battery. As like the regular F11 Pro, it sports a microUSB charging port – Iron Man would've used Type-C to be honest.
Other than that, the phone should be exactly like the F11 Pro, but we reckon you can expect some fire Avengers-themed wallpapers included in the phone.
Although the official price of the phone hasn't been disclosed, but considering the regular F11 Pro costs RM1,299; the Marvel Avengers Limited Edition version should be a little pricier. The phone will be available concurrently with the arrival of the film this April 24.