It seems to be a busy couple of months for Intel as they're steadily pushing new-gen components for the masses – think the recently introduced Optane Memory H10 module that combines Optane Memory with SSD storage in an M.2 form factor.
Now, Intel has again turned heads with the announcement of its new line of 8th-Gen Intel Core vPro processors. These modules are commercial chipsets made for laptops and combines both the chipset and the processor together.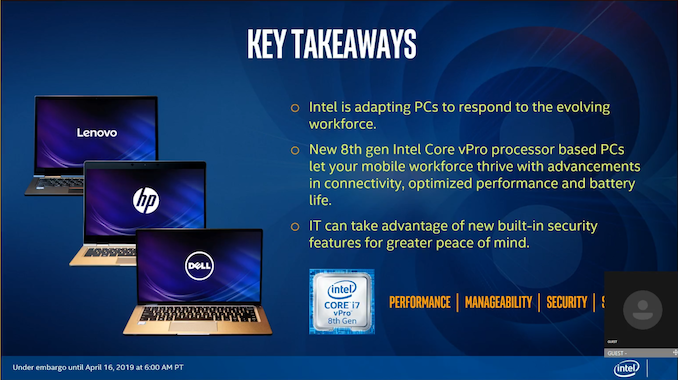 What vPro processors typically offer better security and IT management compared to its consumer-centric counterparts – and the new Core i7-8665U and Core i5-8365U processors should be able to provide improvements in those areas.
The base clock frequencies are 1.9GHz and 1.6GHz respectively while both can be pushed up to above 4.0GHz. The i7 is built using DDR4-2400 memory modules while the i5 sports DDR-2400 memory modules.
Anand Tech reports that the new vPro CPUs provide additional BIOS protection with remote corporate management control functions, Wi-Fi 6 support as well as removing itself as an attack vector. These new CPUs are meant to be utilized in high-end business laptops so don't expect affordability here.