Seagate's IronWolf NAS hard drives have gained popularity for NAS systems due to its great reliability and transfer speeds, I've been using them in my Synology NAS for over two years and they have never failed me.
Seagate has sent us the IronWolf Pro 14TB drive for our review, it is currently the highest capacity in the market with a 7200RPM spin rate and 256MB of cache, this should be exciting for data heavy users as you will be able to expand more storage with reduced cost, imagine having up to a total of 168TB storage in a 12-bay NAS, that's an extra 48TB of storage than having a 10TB drive per bay.
Like other IronWolf Pro hard drives, the 14TB model has the same label design on the hard drive, its amazing how Seagate managed to squeeze an extra 4TB of storage in a 3.5-inch drive form factor. Otherwise, you will also receive other data protection features on this model too, such as a 2-year Rescue Recovery Data plan and IronWolf Health.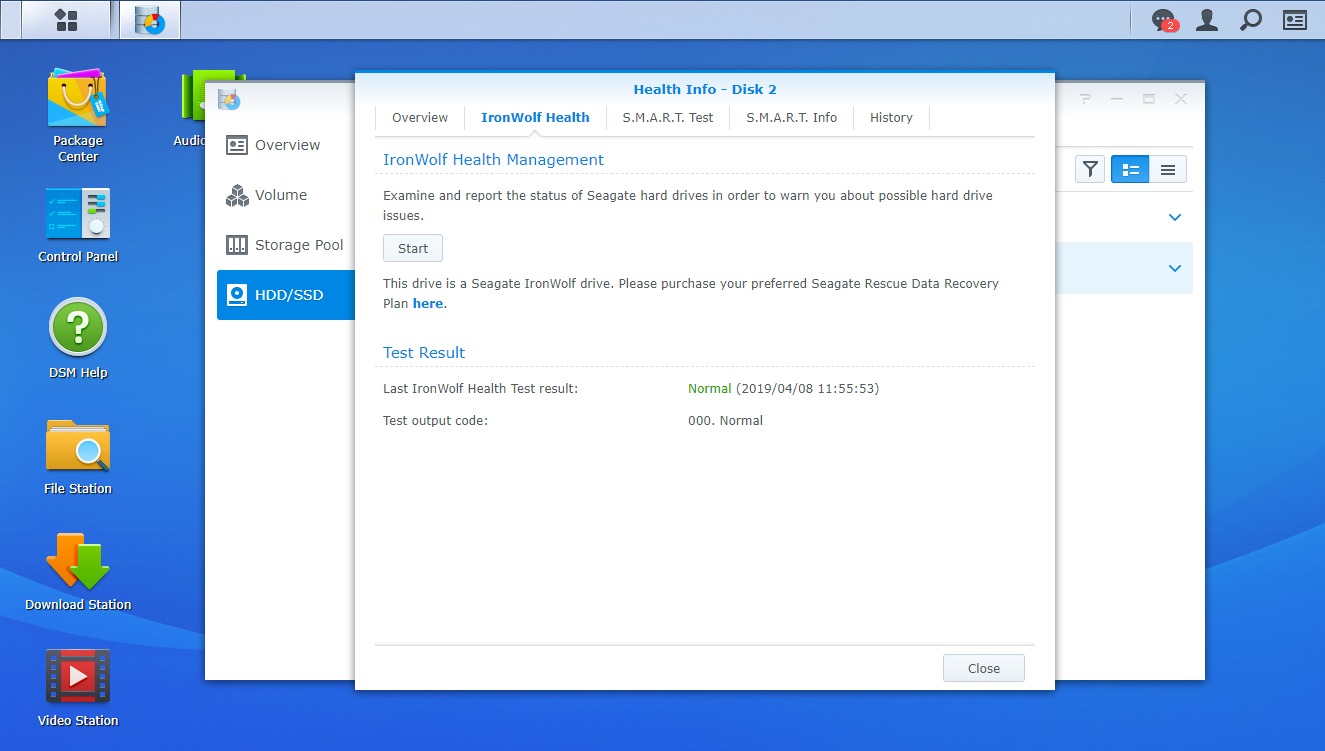 IronWolf Health is particularly impressive, as Seagate has worked with popular NAS manufacturers to integrate this feature to constantly monitor the drive's health and alert the user on potential risks, users can also schedule checks on their supported NAS system. As Seagate puts it, IronWolf Health has adaptive algorithms that monitor critical drive and health parameters releated to data transfer, performance, readability, writability and overall reliability. (Note: At this time of reviewing, IronWolf Health is not yet made available on the IronWolf Pro 14TB, screenshot is taken from a Synology DS216+II with a Seagate IronWolf 4TB hard drive.)
In other features, the IronWolf Pro hard drive does have a better durability with up to 1.2 million hours of MTBF and is made to handle high traffic data transfers with up to 300TB/year of multi-user optimization, you also get 5 years of warranty as compared to the standard IronWolf drive, making this an attractive purchase should your business depends heavily on mission critical applications and data transfer activities.
Benchmarks
Let's dig into the drive's actual performance, since Seagate only provided us one unit of the drive, we are running the drive's data transfer tests on our test bench, as it will also show us the best possible performance of a single drive.
In both CrystalDiskMark and ATTO DiskBench tests, the IronWolf Pro 14TB performed brilliantly and data transfer speeds are very consistent on both read/write, IOPS is particularly impressive for small file size. Based on this single operation test, we can conclude that the IronWolf Pro 14TB can easily handle heavy data traffic if configured with RAID on your NAS.
Verdict
The Seagate IronWolf Pro 14TB is a great performing NAS drive, coupled with Seagate's excellent IronWolf Health monitoring feature and Rescue Data Recovery services, one shouldn't hesitate to buy if your computing environment deals with heavy file transfers and you scale storage very often.
In terms of pricing, the IronWolf Pro 14TB will cost you around RM2798 when checked at Lazada, a RM610 premium over the IronWolf Pro 12TB, which is pretty reasonable considering that you are merely paying RM300 per TB of storage.