Carput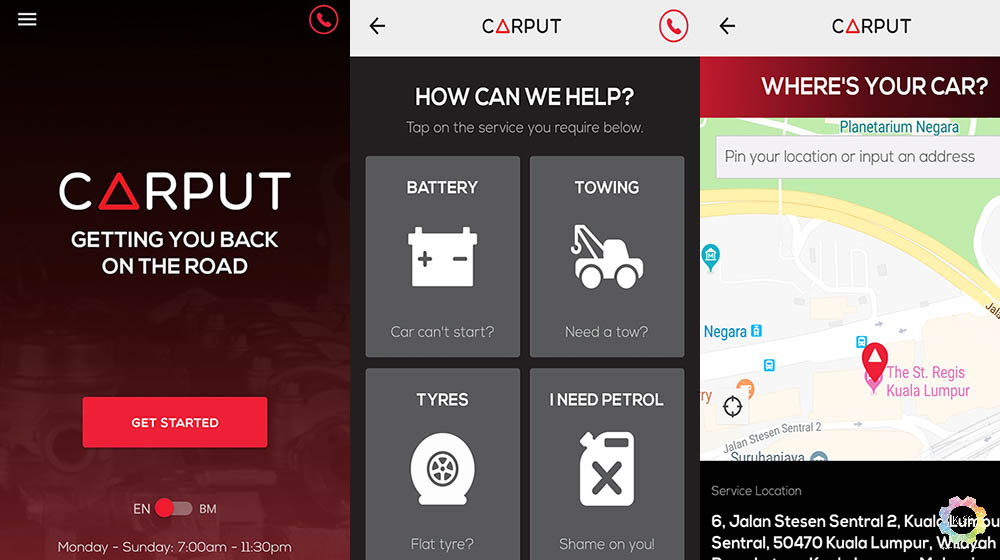 It's balik kampung time, and you know what that means: long-hour drives (please note the sarcasm)! On a serious note, you're likely going to be driving a lot this festive period, and we're sure you've taken all precautionary steps to ensure your car is up to the task.
But in case your vehicle becomes incapacitated for any reason, Carput lets you request for basic roadside assistance like vehicle towing, engine jumpstart, tyre replacements, petrol delivery and minor roadside repairs. Carput enlists a team of licensed mechanics so rest assured you're in good hands. The hotline is always active so you can communicate better with representatives of your problems.
2. Hargapedia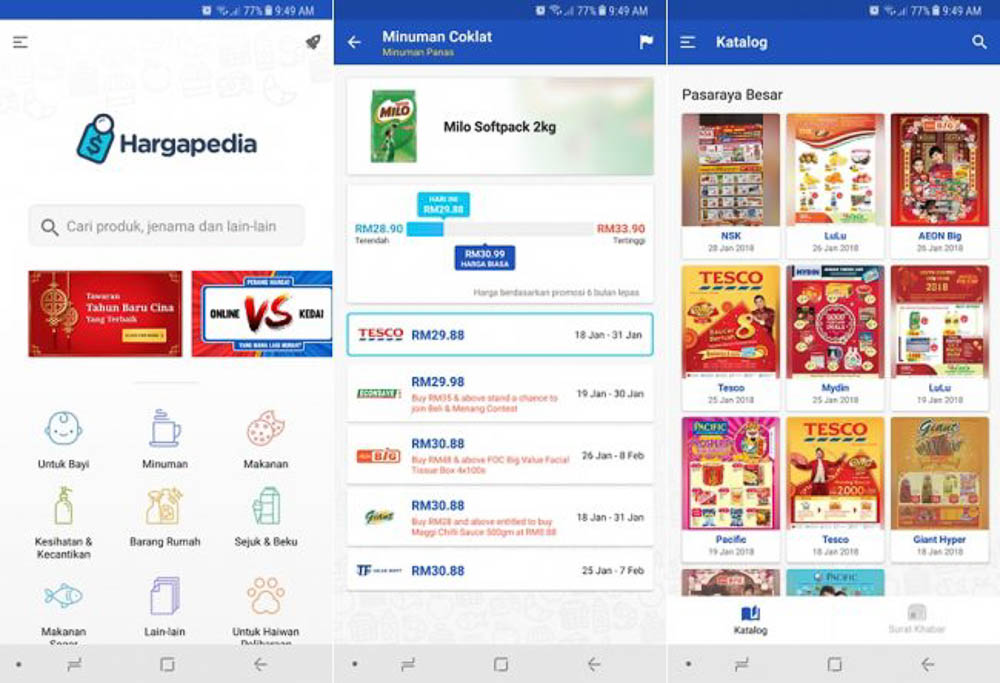 Festive periods call for food, lots of food. Whether you're looking for groceries to whip up a meal or snacks to satiate your guests, you're likely to go through your stockpile in no time.
Hargapedia collects up-to-date prices for goods across multiple major retailers in the country, list them side-by-side and compare prices so you can make informed decisions of where to get the best deal.
The list of retailers includes Tesco, Aeon, Giant, Econsave, Hero Market and a lot more. You will also be able to find promotional pamphlets listing Chinese New Year prices for your perusal, helping you cut cost this festive period.
3. GoGet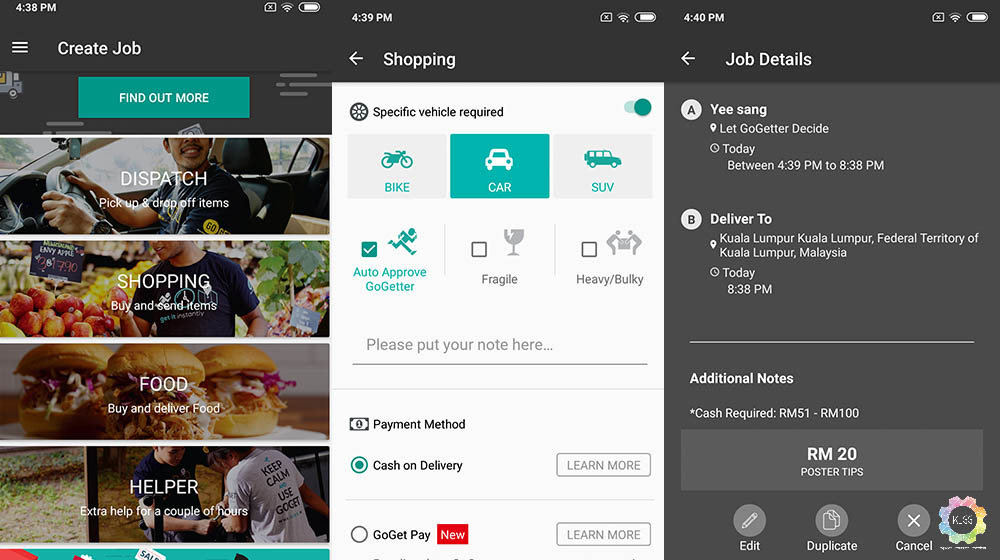 Now that you've picked out the items from Hargapedia, you'd still have to go buy them yourself; or, you can pay someone to do it for you instead, perhaps?.
GoGet lets you do exactly that: when you're stuck at home entertaining your guests, you can hire someone through the app to go run errands for you.
Simply pick a category such as shopping, food, a general helper and more, note down the task, suggest a price you're willing to pay for service. If the job and pay is reasonable, someone should accept the job in no time, so now all you have to do is wait. You're not well-stocked without breaking a sweat.
4. AllRecipes Dinner Spinner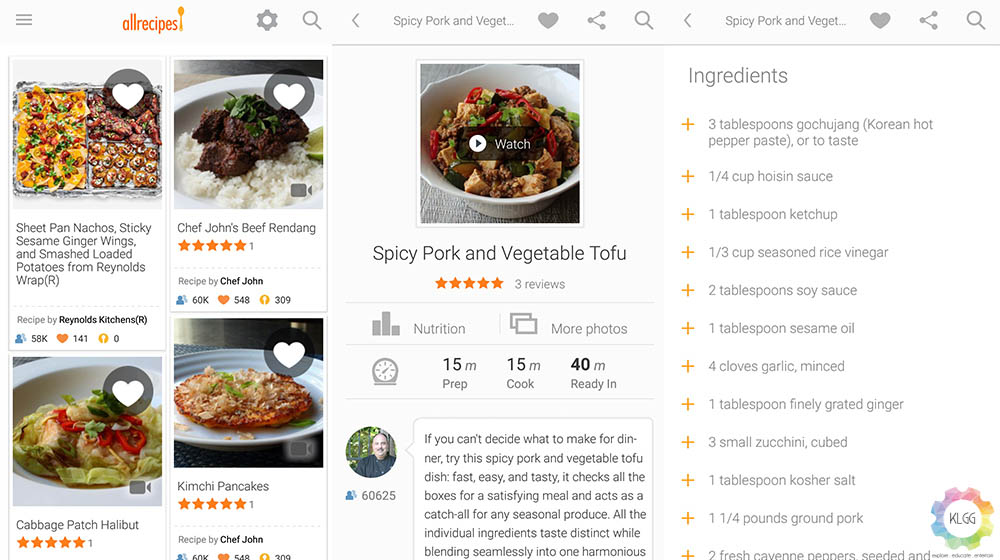 In case you're the designated cook for family dinners, this app has all sorts of recipes for you to use.
All recipes are detailed, instructions are easy to read and most recipes come with an instructional video. You can pick according to the recipe's cooking time too in case you're surrounded by hangry relatives.
5. Food Panda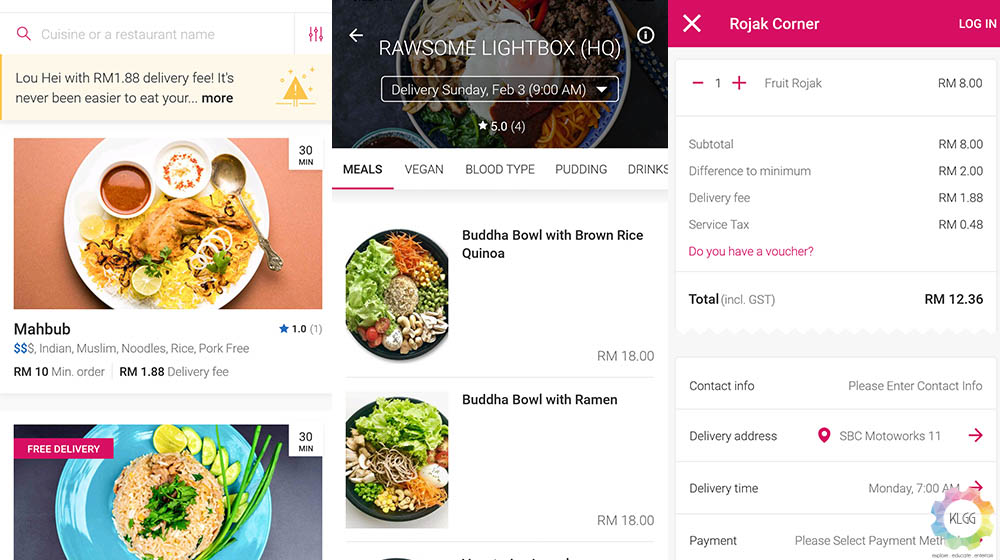 Can't be bothered to cook? Why not have food delivered to you instead?
Don't worry, it's the holiday season and no one's going to fault you for not wanting to lift a finger. Food Panda needs little introduction – it's a popular food delivery app that lets you pick from a range of F&B outlets near you.
Offerings really depend on where you want the food delivered to, but Food Panda has one of the widest coverage among other similar apps on the market. The best part is, the delivery fee during this festive period only costs RM1.88 – so you have more left in your wallet for the customary rounds of CNY blackjack with the family.
6. Yusheng and CNY Yu Sheng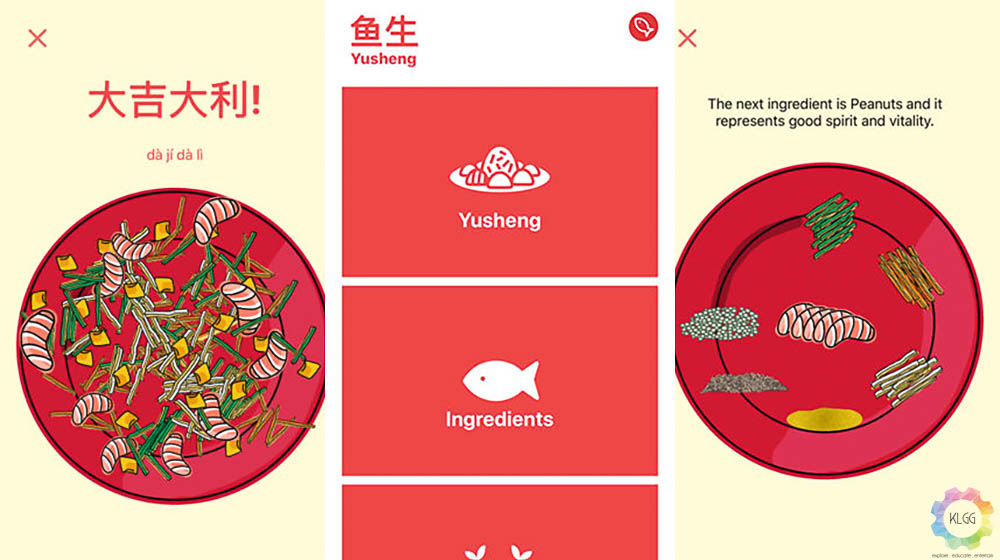 To the chronic bananas, we know how awkward it can be when you're the only person around the table who recites auspicious wishes in English when the family congregates for the customary lou hei. 
In comes the Yusheng app to save the day! It contains a list of traditional Mandarin lou hei wishes with it's English translations, which is great for those who can't remember the sayings and what they mean. There's also a mode that lets you tinker around with a virtual yee sang with different ingredients that you could add to a real one.
Download this in advance and practice the sayings so you can impress Ah Ma and Ah Gong with your fluent Mandarin wishes and yee sang making skills! This app is only available for iOS devices.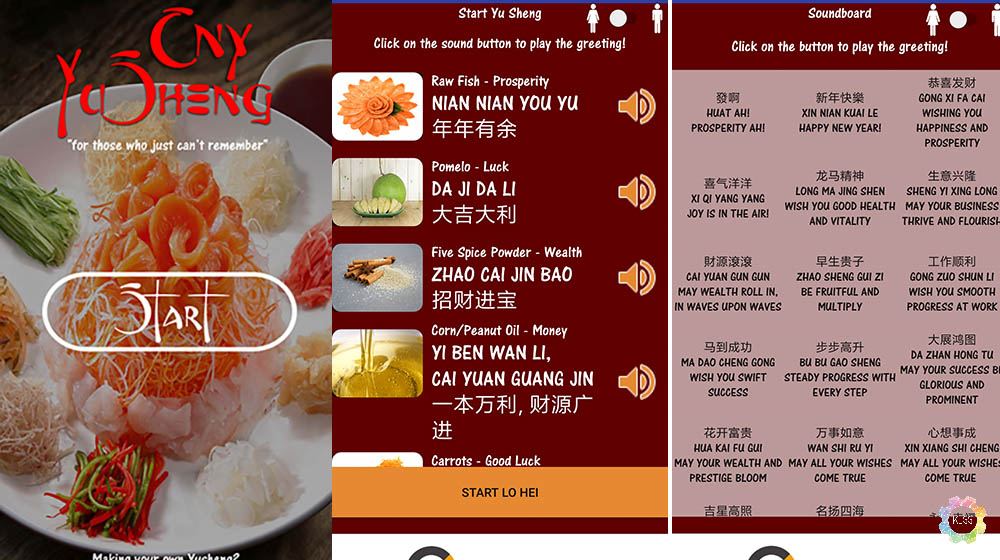 For Android users, here's a similar app. CNY Yu Sheng is  essentially a soundboard equipped with lou hei wishes. Although it doesn't come with as many features as the app above, this one should help you brush up on your Mandarin wishes too.