Apple and Microsoft have finally collaborated to bring Microsoft Office 365 to the Mac App Store and when downloaded, the bundle will include Word, Outlook, OneNote, OneDrive, Excel and also PowerPoint.
After downloading the bundle, MacBook users can subscribe within the apps, and each Microsoft Office 365 in-app purchase will offer the individual with a one-month trial of Office 365.
While previously Office 365 need to be updated through a separate Microsoft tool, users will now be able to update their Microsoft apps via App Store.
It is also worth noting that Office 365 for Mac is designed in relevance to the Mac experience by supporting Mac features such as Dark Mode, Continuity Camera, MacBook Pro Touch Bar and Trackpad. 
Apart from that, companies that are using Apple Business Manager can also benefit from Office 365 on the Mac App Store because it can help in application distribution for IT employees to gain access to the Office apps on their Apple devices.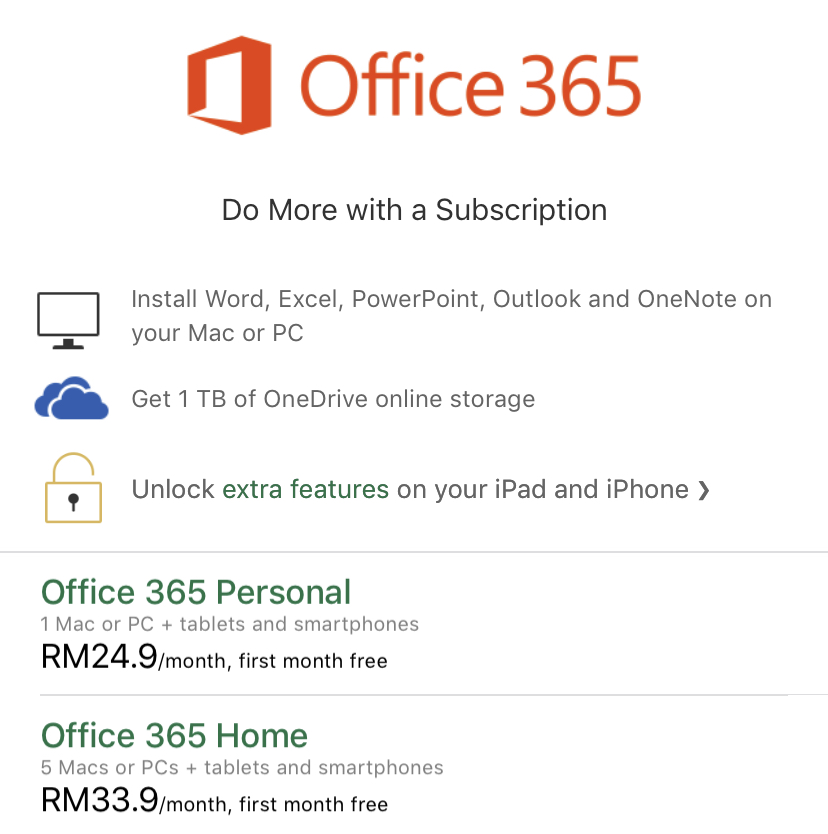 For those who has yet to subscribe to Office 365, you can do so by clicking Upgrade in the Settings tab in the whichever Microsoft app you're in. You will then be offered the option to subscribe to Office 365 Personal for RM24.90/month or Office 365 Home for RM33.90/month. Like I've mentioned, you'll get your first month free before having to pay the subscription fee. In addition to that, you'll also get 1TB free of OneDrive online storage.