Over the past three weeks, I have been travelling in the US with two laptops in my backpack – Yes, TWO freaking heavy laptops. Nah, just kidding, they are actually both very light -, So yeah, one of them is ASUS' latest ZenBook 13 that has been unveiled today in the Malaysian market.
The main reason to have it packed together with my trusty MacBook Pro 15-inch isn't exactly on purpose, though I have the review to complete during my 1-month trip here, it is such a portable device that I find it a no brainer to have it in the tablet pocket of my bag (Yes, it fits!).
Upon receiving the device from ASUS, I was totally awed with its excellent aesthetics. The Zenbook 13 feels and looks like a masterpiece that most companies would have taken years to achieve, you get a beautiful 13-inch glossy display fitted on to a super slim frame that would have been a standard 11-inch laptop display.
In technical terms, you get an impressive 95% screen-to-body ratio.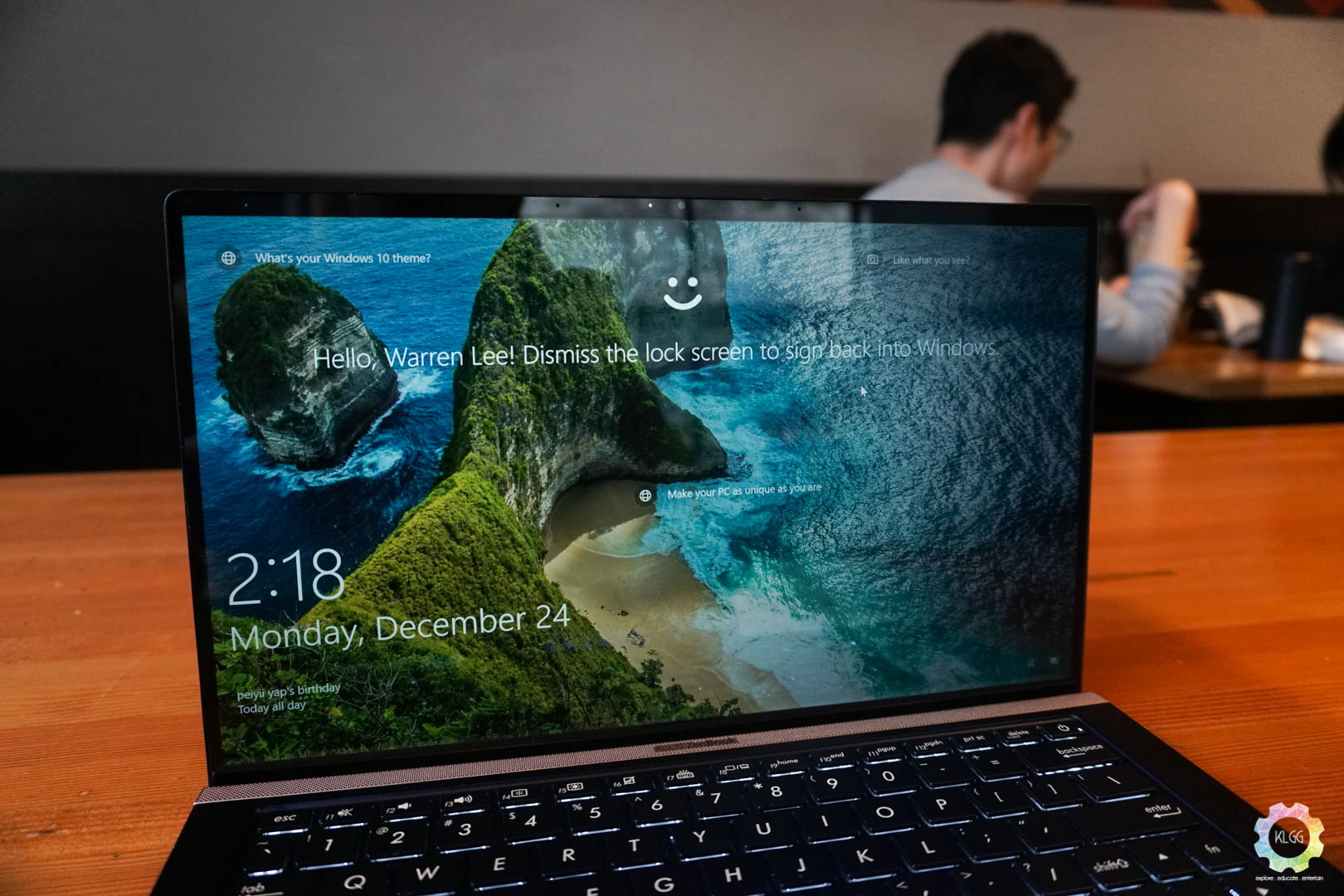 ASUS continues to calls this the NanoEdge design like it does on its other slim bezel display laptops, what's even more impressive is that the company has managed to pack a very decent webcam on the top bezel along with face recognition sensors for Windows Hello.
Despite having great color reproduction, the ZenBook 13's Full HD display unfortunately isn't the brightest, in most cases I have the brightness cranked to the max as I'm working, which isn't a good thing as it affects battery life, the reflective glossy panel also mean that you will not enjoy working on it outdoors.
If your computing activities merely happens indoors, then you should have no problems with it.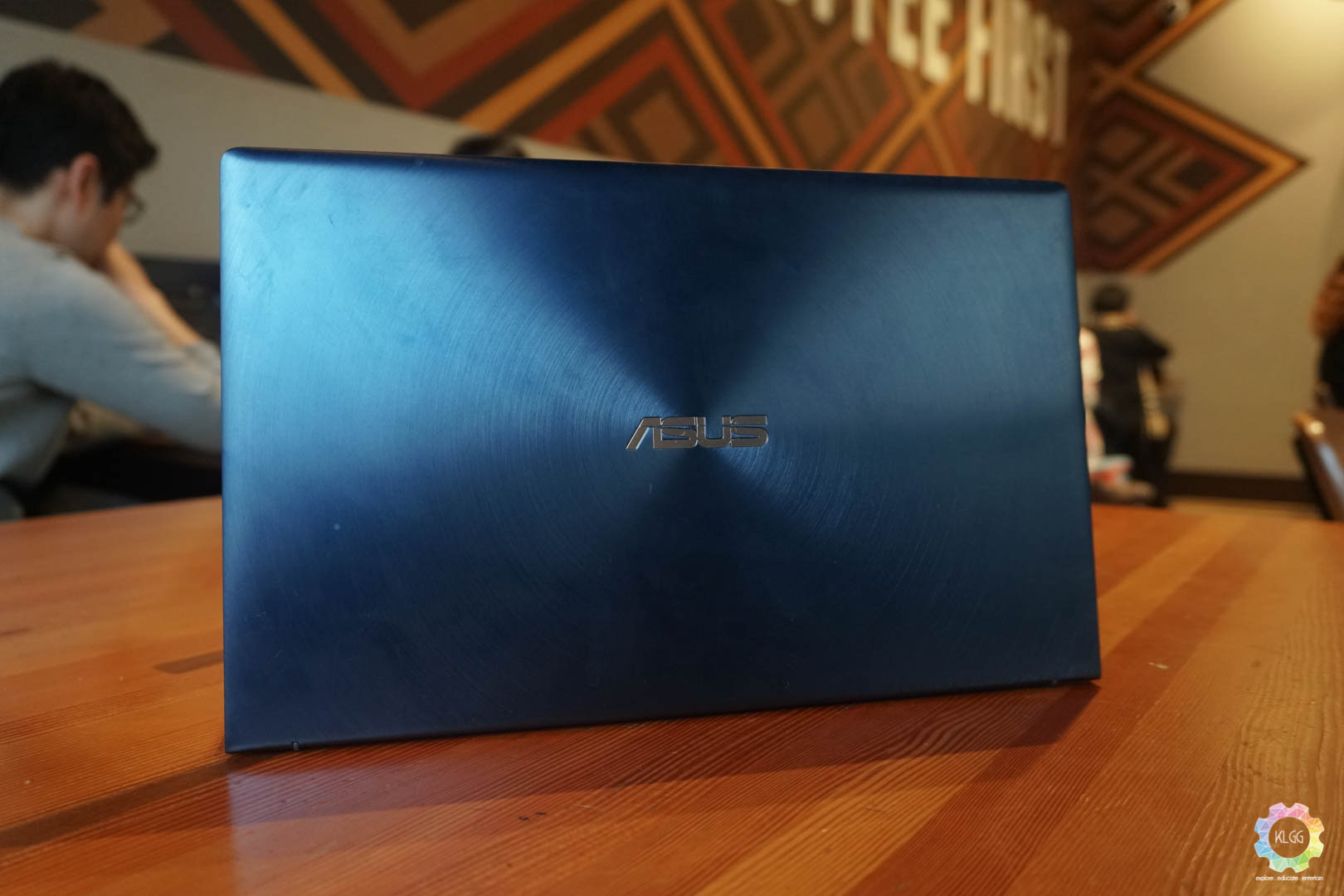 The entire construction of the ZenBook 13 is made with aluminum like its other siblings, the signature spin effect is present on the lid that makes it look unmistakably a ZenBook.
There's so many things to love on the ZenBook 13, to name a few, the ErgoLift hinge that heightens the device to offer a better typing experience.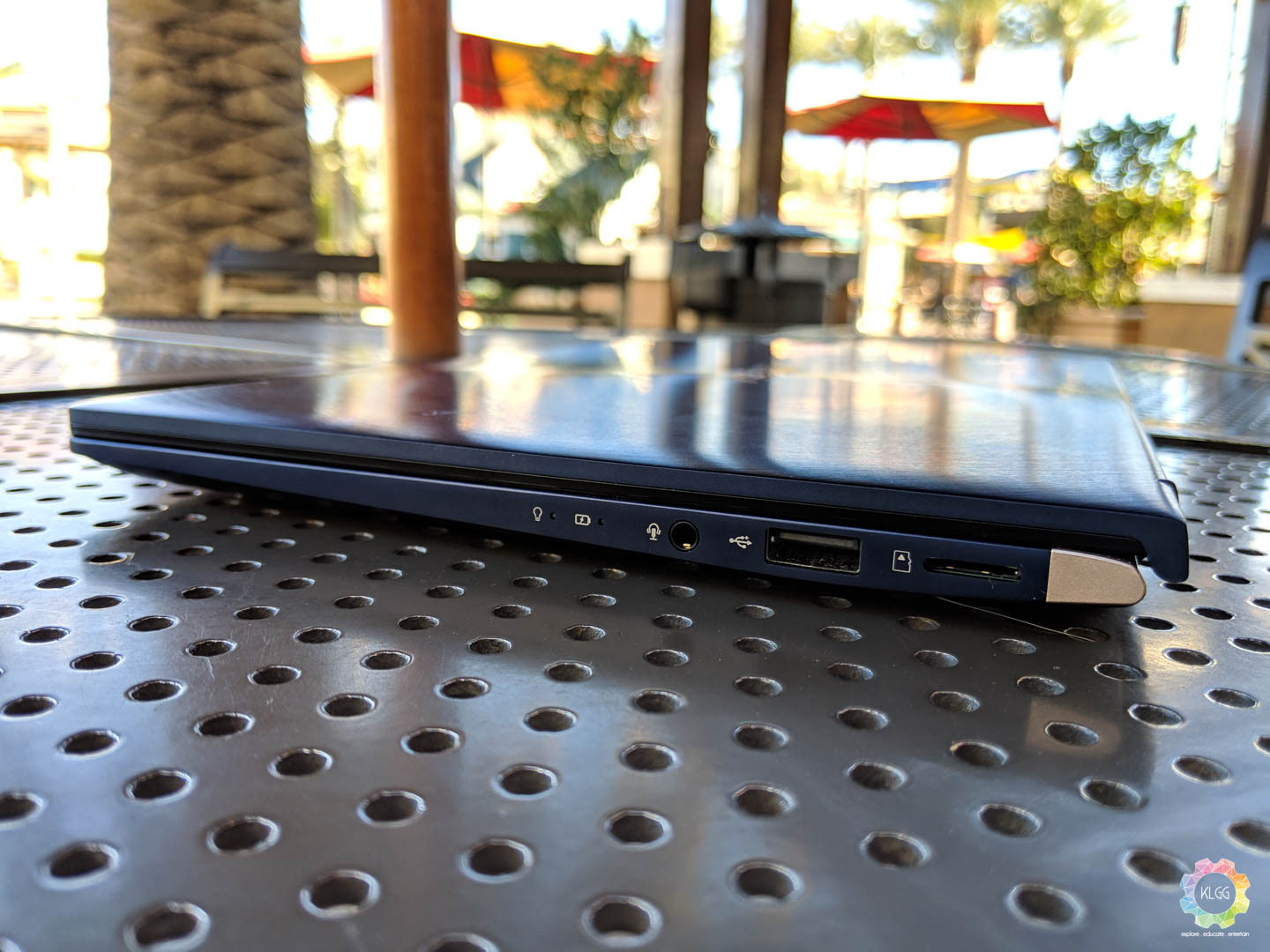 I/O ports are placed and designed well, for instance the charging port is placed on the left so that your right working space looks clean for your mouse, there's two standard USB 3.1 ports on each side, a USB-C port with no Thunderbolt 3 support, and a full sized HDMI port.
You will hardly need any dongle to go with the ZenBook 13 and ASUS has included an external USB Gigabit LAN dongle in the box if you ever need it.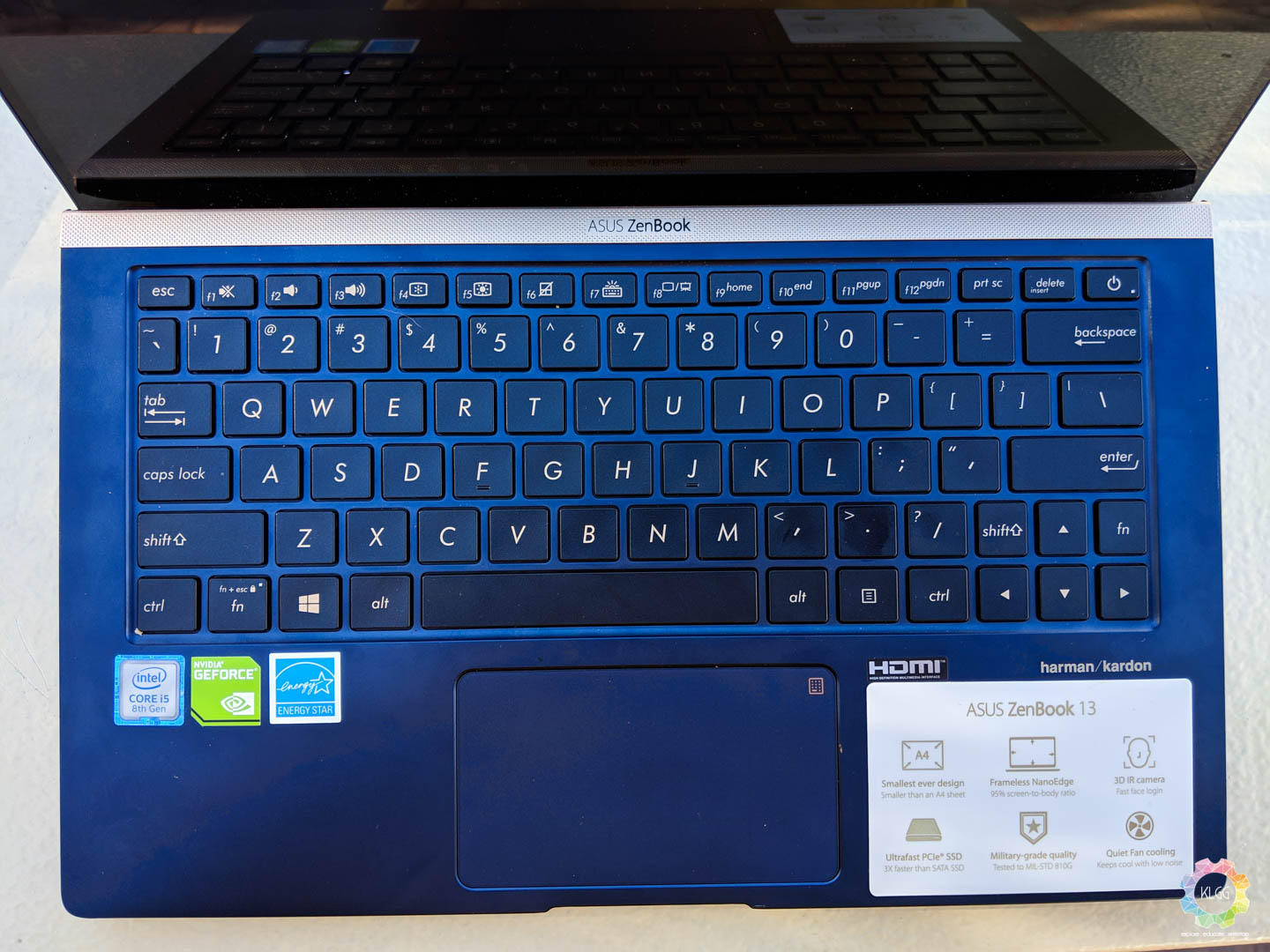 ASUS' ZenBook keyboards have never failed to impress and the ZenBook 13's keyboard is just as good with decent key travel and precise keystrokes, I actually wrote this review using this keyboard and would prefer it any time over my MacBook Pro's butterfly keys.
However, there are still imperfections, the right 'Shift' and 'Fn' keys are as compromised to smaller keycaps as they make way for the QWERTY keys, but I have barely used them throughout the review period. The only thing that I still get confused with is the 'Delete' key, where I occasionally pressed the 'Power' button that made the laptop go on standby.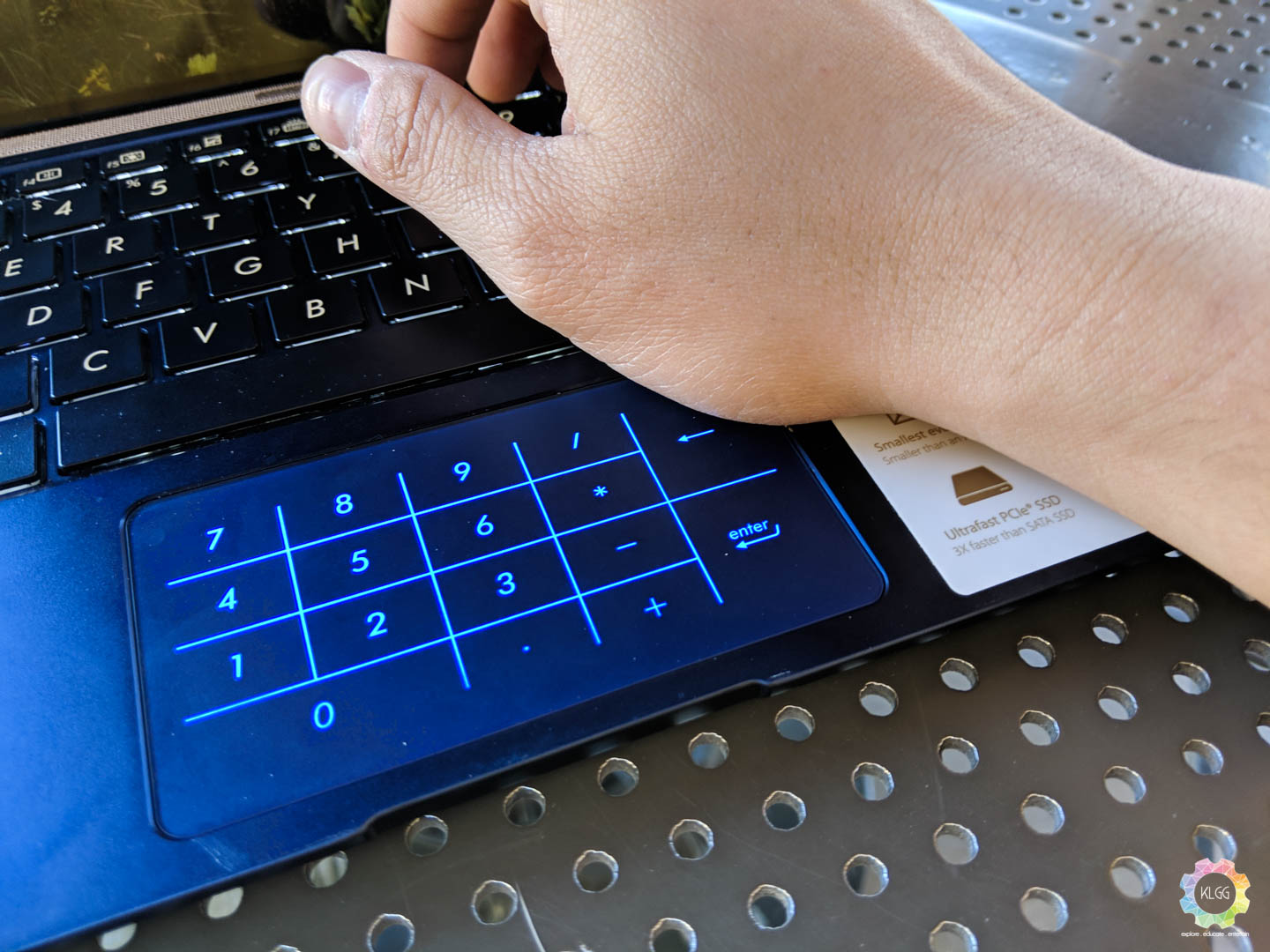 I have to commend ASUS for including a hidden numpad onto the laptop's trackpad, which can be activated with a capacitive button on the top right side.
While it is smart enough to identify between a standard click tap and number tap, it can get pretty frustrating if you have your palm rested near it while typing, as your palm may accidentally turn it on and you tend to make a lot of errors as you type, so its either you lift up your hand while typing or totally disable the trackpad to avoid that.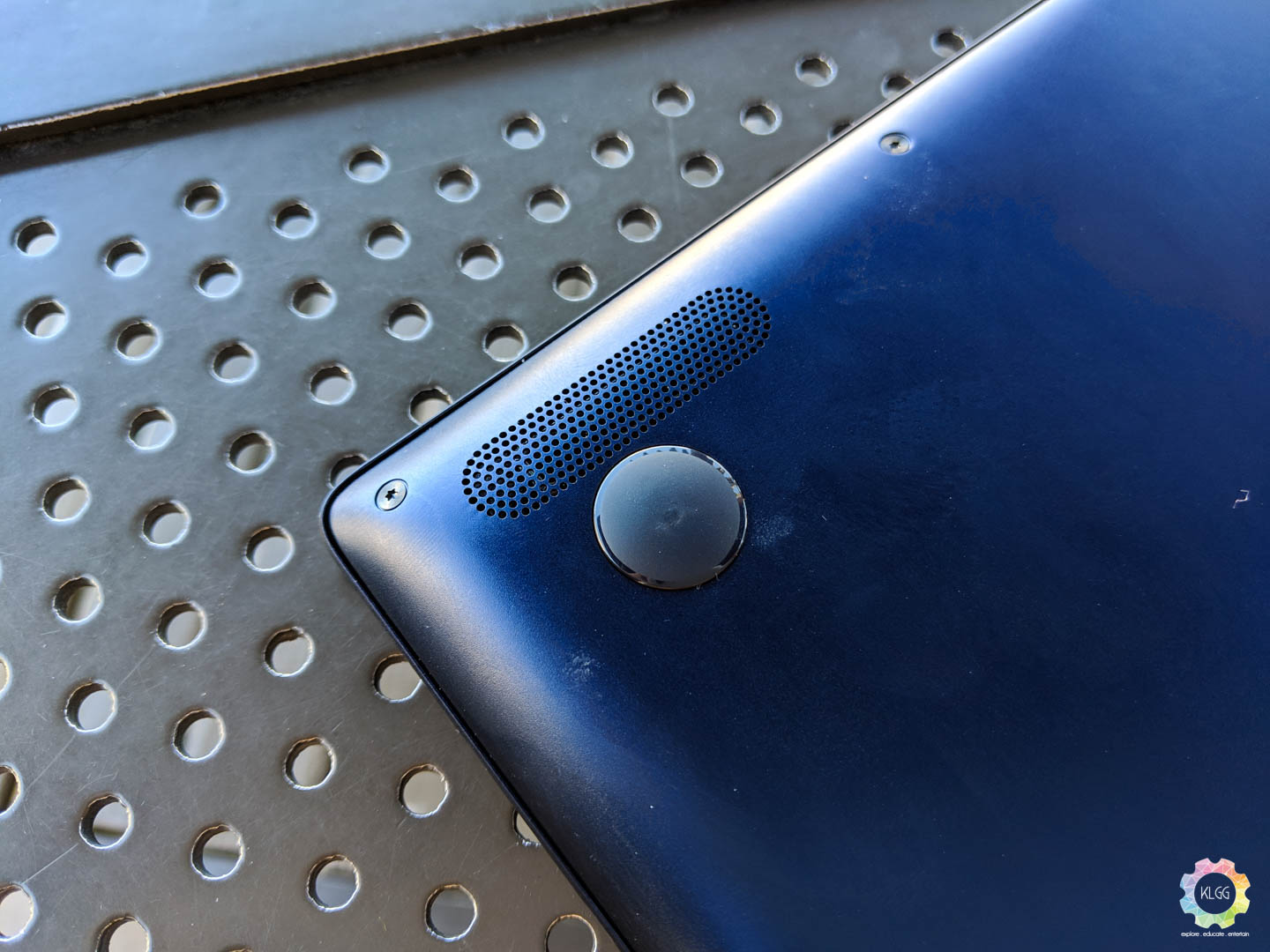 The ZenBook 13 boasts one of the best sounding loudspeakers I've heard on an ultrabook, though they could be better positioned on the top rather than firing sound at the bottom, they easily fill a room with rich details and doesn't distort at max volume.
The review unit I have comes with a Core i5-8265U quad-core processor, 8GB RAM, 512GB SSD and a GeForce MX150 discrete graphics. ASUS does offer a higher spec variant which comes with a Core i7-8550U with the same storage configuration, you can't upgrade the RAM or SSD as they are already soldered on its motherboard.
During the review period, I haven't encountered any serious performance issues and it was a champ at handling over 15 Chrome tabs despite only having 8GB RAM, SSD speeds maxes out at 1.7GB/s sequential read and 1GB/s sequential write, which is very impressive for a two-lane PCIe NVMe drive.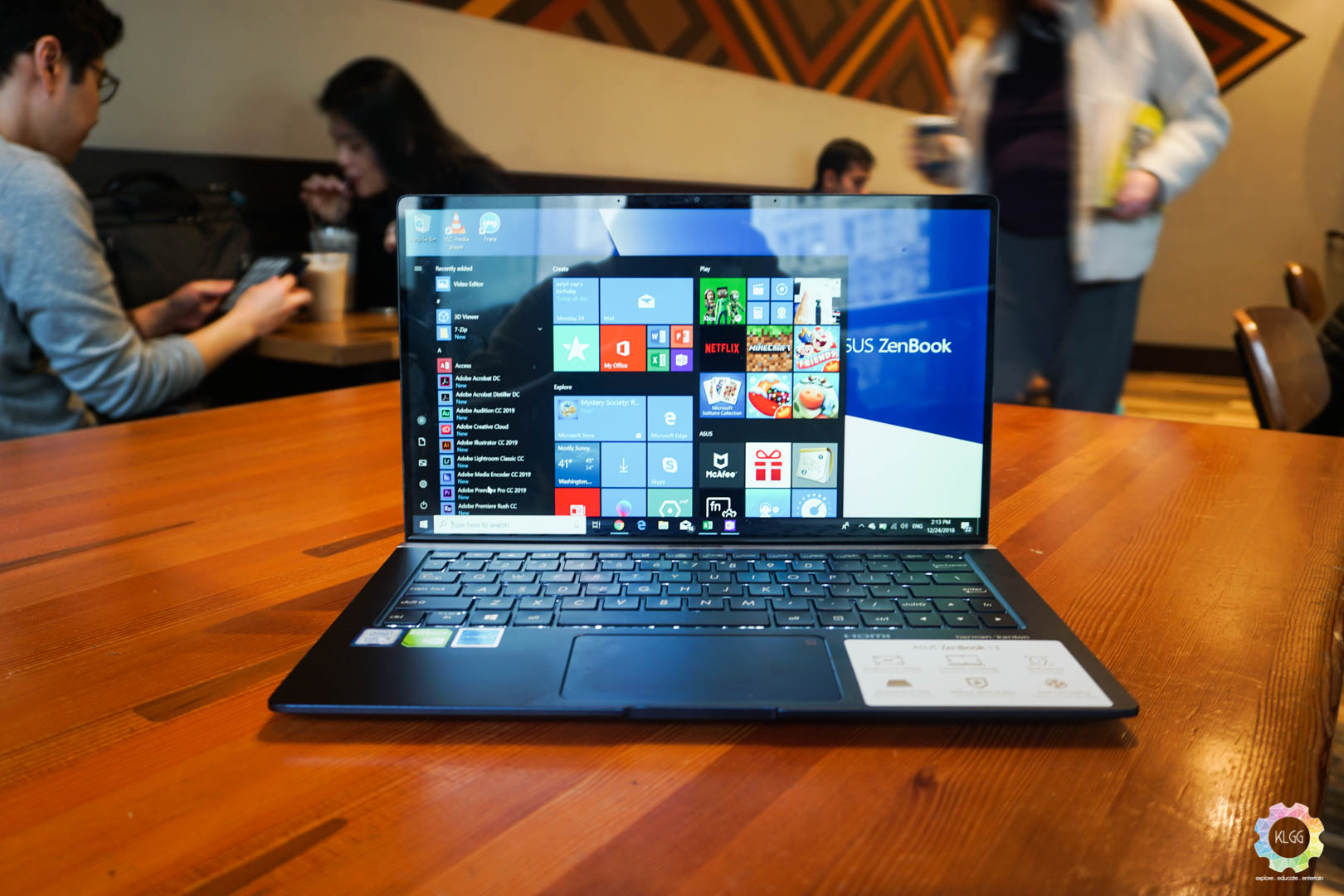 One can easily think that the ZenBook 13 should be rather capable gaming machine with its GeForce MX150 graphics, which unfortunately isn't the case.
While the MX150 is certainly capable of running modern AAA titles with low graphics setting at 1080p based on its official memory frequency, the ZenBook 13 uses an underclocked variant of the MX150 and uses four PCIe lanes.
GPU-Z reports that the MX150's base GPU and memory frequency clocked at 937MHz and 1253MHz respectively, that's close to a 30% reduction if we were to compare to the default 1227MHz GPU clock and 1502MHz memory clock frequencies. Not to forget to mention, due to the limited use of PCIe lanes the memory bandwidth is also running at a significantly lower 40.1GB/s in contrast to the stock 48.06GB/s.
This significantly strips off the performance benefits of the GPU, and games I've tested, such as PUBG and Shadow of the Tomb Raider, will either freeze in-game or drop to single digit frames per second, though the low profile cooling system of the laptop could have also held back the performance of the MX150.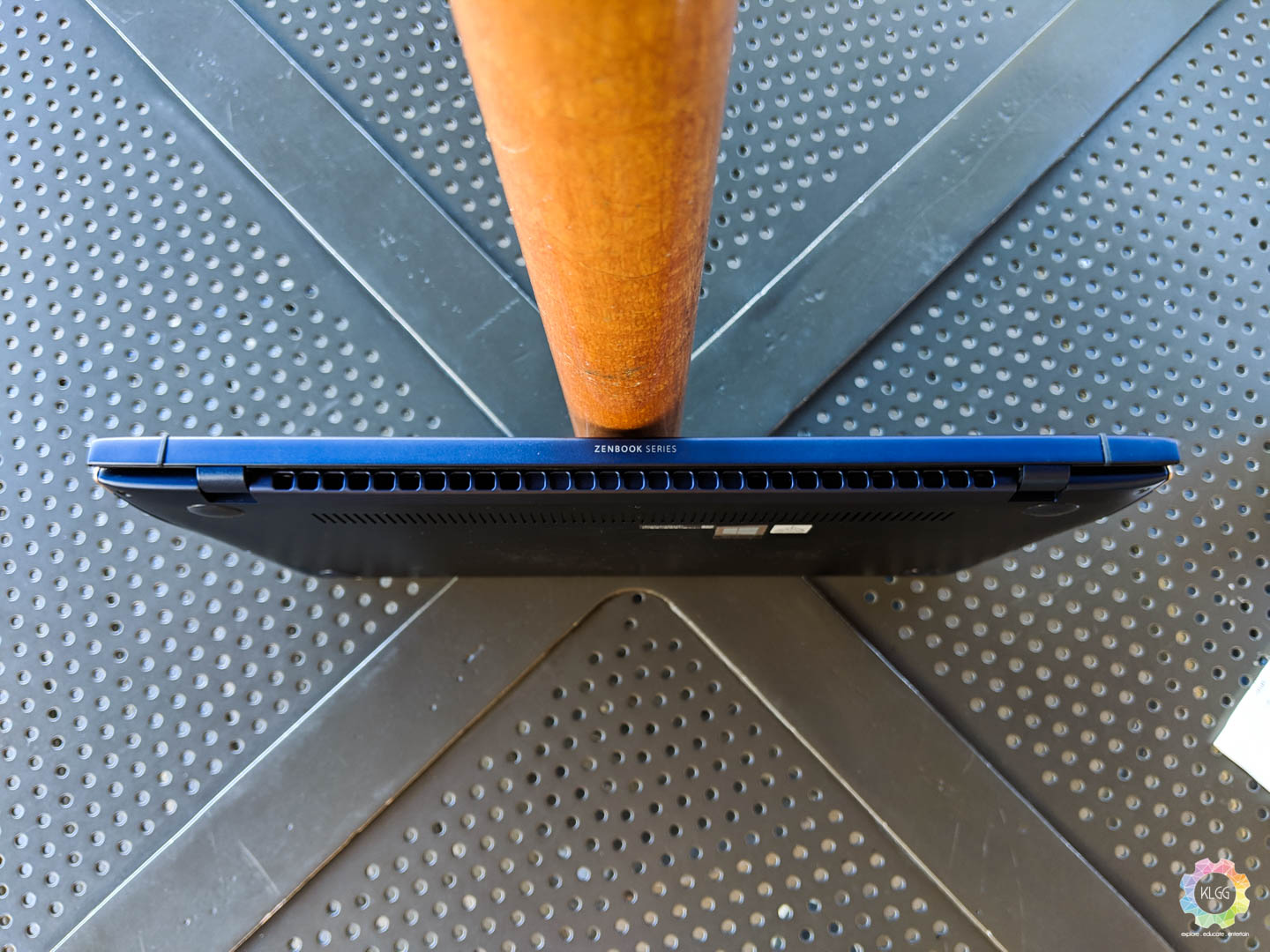 Speaking of cooling, the ZenBook 13's fan noise is a mere whisper despite working on full load, and its dead silent when it comes to lightweight activities such as word processing and movie watching.
Nonetheless, you probably shouldn't be gaming on this laptop, but on the bright side of things, I've done simple 4K video edits on Premiere Pro and it performs reasonably well, all thanks to the CUDA cores on the MX150, exporting a 7-minute video at 100Mbps bitrate takes around 33 minutes with the CPU running at 60% load, which couldn't have been possible with Intel's integrated graphics.
ASUS claims that the ZenBook 13 can have up to 14 hours of battery life on a single charge, I obviously didn't get to enjoy up to that claimed endurance, instead I managed to get 6.5 hours with my best power conserving efforts, heavy continuous usage will get you around 5 hours of usage, so I consider that a pass.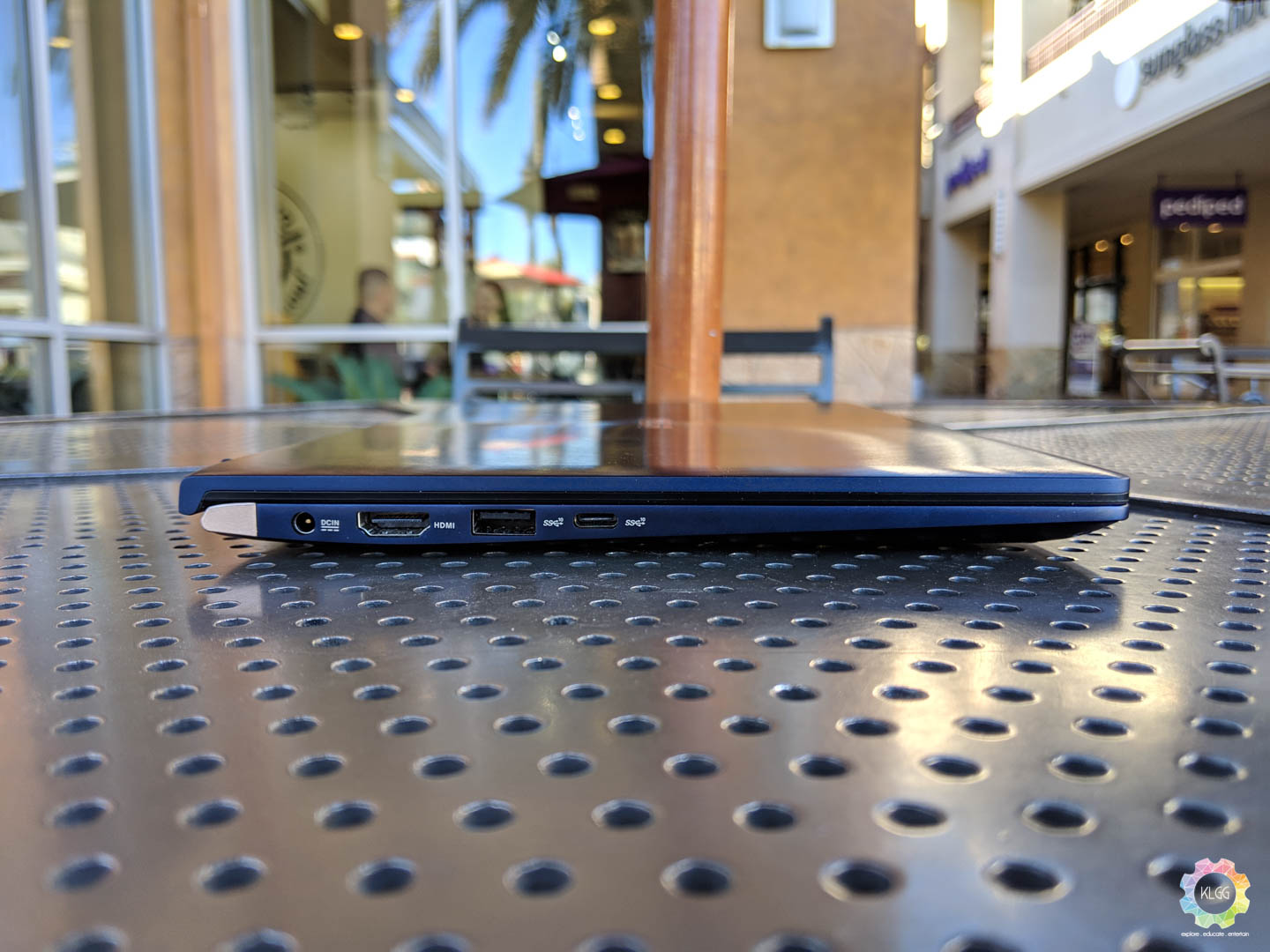 What I would really love to see on future ZenBooks is USB-C charging, which has started to become common even on sub RM3000 laptops, even though the power brick of the ZenBook 13 isn't heavy to transport around, the laptop could probably get an extra input port if not for the proprietary charging port.
Despite some of the imperfections of the ZenBook 13, this is the best ultra-portable 13-inch Windows laptop that I have ever had the pleasure to review over the past three weeks, it fits on any café tables, it has a stunning display and build quality, it is every bit as premium as the ZenBook brand carries, and yet ASUS have made this a very reasonably priced purchase from the price of RM4,499 to RM4,999, directly rivaling at more expensive competitors such as the Dell XPS 13 and Huawei Matebook X.
The Good
Excellent build quality and aesthetics
Good ports selection
Great webcam and Windows Hello support
512GB SSD as base storage
Discrete graphics great for video encoding
Competitive pricing
The Not so Good
Right 'Shift' and 'Fn' keys are compromised
Screenpad can be activated accidentally while resting palm
No USB-C charging
Display brightness could be better