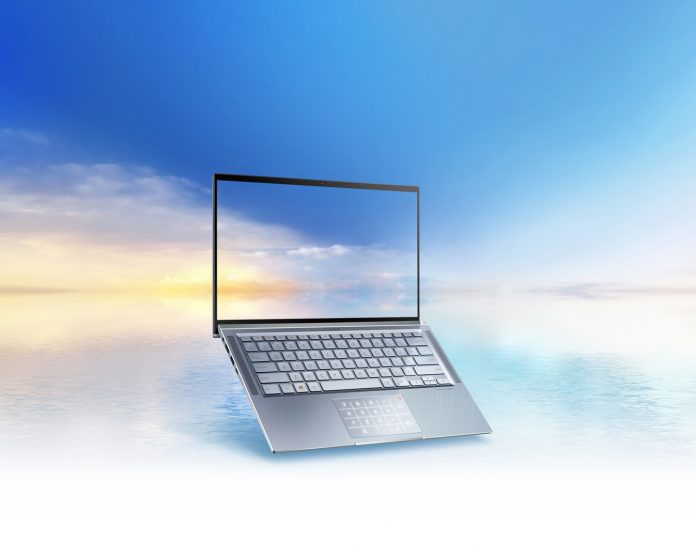 There's so many things to look forward to this year by ASUS, one of product includes the ASUS ZenBook 14 (UX431).
The ZenBook 14 looks sophisticated with its Utopia Blue colour and spun-metal finish, when the lid is lifted, it reveals a 14-inch FHD (1920 x 1080) IPS NanoEdge display that offers great viewing angles and uniform colour no matter what the user's sitting position may be.
For a more immersive experience, the NanoEdge display technology shrinks the bezels on either side down to just 6.5mm while also cutting down on the laptop's overall size.
Thanks to the narrow bezels, ASUS engineers were able to squeeze the 14-inch screen into a compact 13-inch chassis.
The ZenBook 14 weighs just under 1.45kg, making it easy for users to slip it into their bags or tuck under arm and carry anywhere.
The ZenBook 14 prioritizes function alongside form, with some thoughtful tweaks to ensure the design serves more than just aesthetics, the ErgoLift hinge automatically tilts the keyboard up at an angle when the lid is opened, creating a more comfortable typing position while improving airflow under the chassis for better cooling.
The touchpad displays the illuminated NumberPad, where the numeric keypad allows for convenient data entry and calculations, but it doesn't add any unnecessary width to the keyboard and can be turned on or off with just a tap, so it's not a distraction when working on other projects.
The ZenBook 14 comes with Intel's 8th Generation Core i3, i5, and i7 CPU options offer up to four Hyper-Threaded cores that run at frequencies as high as 4.6GHz thanks to Turbo Boost technology.
The integrated Intel UHD Graphics 620 engine is ample for photo editing and video streaming, but upgrading to discrete NVIDIA GeForce MX150 graphics with 2GB of dedicated GDDR5 memory makes light gaming an enjoyable option.
The ZenBook 14 is available with up to 16GB of RAM to ensure seamless switching between tasks. On top of that, up to a 1TB SSD provides a powerful combination of low latency and high capacity.
Other than that, the ZenBook 14 boasts a total of four speakers. In addition to the pair of upward firing speakers flanking the keyboard, there are two more bass speakers on the underside of the laptop, and the extra space created by the ErgoLift hinge results in clearer bass.
The quad-speaker system provides truly immersive sound, with a 1.4X-higher frequency response compared to its predecessor, UX430. Powered by a smart amplifier, the Harmon Kardon-certified setup employs advanced signal processing to deliver a wider frequency response and powerful bass for especially crisp sound.
Additionally, the ZenBook 14 features I/O ports befitting a flexible workhorse, there's one USB 2.0 Type-A port for a mouse, and the USB 3.1 Type-A and Type-C ports readily accommodate external storage, flash drives, printers, and other peripherals.
Users can connect to a second monitor via HDMI and the SD card slot accepts memory cards without the need for a USB adapter. There's also a 1.8mm audio combo jack for headphones.
The ZenBook 14 features a 2×2 802.11ac Wi-Fi configuration, so users can move huge files to and from the cloud in record time or stream video without a hitch.
The availability and pricing of the ZenBook 14 shall be announced by ASUS during its launch.
But until then, for more information, check out their website here.