Apart from the ROG gaming laptops that were introduced, ASUS also introduced the ASUS Chromebook Education series that consists of lightweight and portable devices that are running on Chrome OS.
The series includes two traditional clamshell laptops, a convertible laptop and a tablet. Starting with the clamshell laptops, ASUS introduced two different sizes of the Chromebook, with the smaller-sized Chromebook C204 sporting an 11.6-inch display. The HD display also comes with anti-glare support and has a base that comes with a 180° hinge so that the laptop can be laid completely flat. It also supports touchscreen variant which the C403 does not.
The dark grey C204 is a successor to the Chromebook C202, yet it comes with a thinner body. Despite being thinner, it is still a tough device that is shock-absorbent with a keyboard that is tamper-resistant, allowing it to survive falls up to 120cm when dropped flat and up to 80cm when dropped on its sides. 
Under the hood, the laptop is powered by Intel Celeron N4000 processor with Intel HD Graphics 600. In addition, it comes with up to 4GB RAM and has 32GB of storage and needless to say, it's operating on Chrome OS.
Besides that, the Chromebook C204 comes with two USB Type-C ports, two USB Type-A ports, a microSD card, an audio combo jack and a Kensington lock slot. The Chromebook C204 weighs only 1.2kg, which makes it a rather light laptop to carry around. It is said to be able to last all day long with its 50Wh battery, and it has dual-band Wi-Fi 5 (802.11ac) that supports 2.4GHz and 5GHz frequencies.
Aside from the C204, there is also the Chromebook C403 that is larger because it comes with a 14-inch HD display that has anti-glare feature. Similar to C204, the C403 has a 180° hinge, features up to 4GB RAM and 32GB storage and comes with Chrome OS. However, it has a lower graphics as it is equipped with the Intel HD Graphics 500.
The C403 also sports a two USB Type-C ports, two USB Type-A ports, a microSD card, an audio combo jack and a Kensington lock slot. Its battery is almost just as good as the Chromebook C204, though it comes with a 45Wh battery. The Chromebook C403 is also heavier than the Chromebook C204 as it weighs 1.7kg.
Moving on, ASUS has also introduced the Chromebook Flip C214, a convertible laptop that comes with 11.6-inch HD anti-glare display. Thanks to the convertible design consisting of the 360° hinge, the Chromebook Flip C214 can easily be used as a tablet or a laptop, depending on students' needs.
Similar to the other two Chromebooks, the C214 has spill-proof keyboard and comes in dark grey. Users can choose to opt for the Intel Celeron N4000 or the N4100 processor and the Chromebook comes with up to 8GB RAM and 64GB storage, in addition to being equipped with the Intel HD Graphics 600. One extra feature that the Chromebook Flip C214 has is the world-facing camera that can either be 5MP or 8MP, in addition to the user-facing HD camera.
The C214 comes with two USB Type-C, and USB Type-A, a microSD card, an audio combo jack and a Kensington lock slot. It sports the same 45Wh battery found in the Chromebook C403 and it weighs 1.2kg like the Chromebook C204.

Apart from the three devices, ASUS also revealed the Chromebook Tablet CT100, the first Chrome OS tablet the company has ever produced. The tablet is designed for younger kids as it serves as an easier introduction to technology, though it is still running on the same version of Chrome OS like the rest of the Chromebooks mentioned. With a 9.7-inch QXGA multi-touch display, the CT100 comes with rubberised chassis and strong tempered glass so that it can sustain drops up to 1 meter. 
It's also powered by a hexa-core OP1 processor that is made especially for Chromebooks, and the processor is coupled with Mali-T864 graphics. The CT100 holds 4GB of RAM and 32GB of storage, and houses two cameras; a 2MP HD front camera and a 5MP HD rear camera.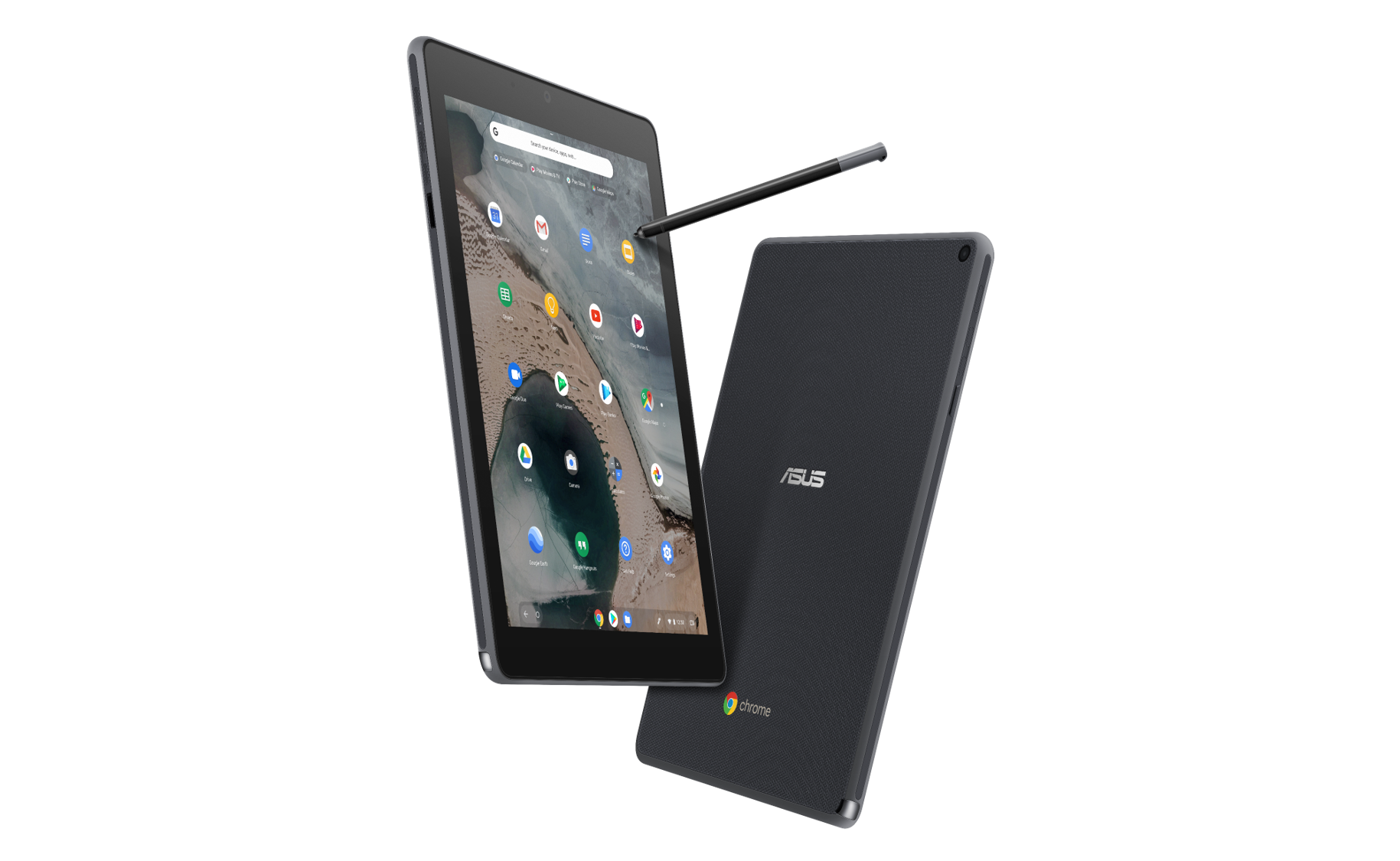 As the Chromebook Tablet CT100 is just a tablet, it only comes with one USB Type-C port, one microSD card and one audio combo jack. It also has less battery life as it uses a 35Wh lithium-polymer battery. Among all the Chromebook devices introduced, the CT100 is the lightest at its weight of 568g.
This series might not be the best for gamers or those who run high-processing tasks like video-rendering, but it definitely suits those who are using it for educational purposes such as taking notes, completing assignments and basic functions such as listening to music and making video calls. The ASUS Chromebook series will be launching in the next few months, and only by then will we know the availability, pricing and configurations.